 With many advantages: digital locking systems, digital locking cylinders
Ensures security: the locking cylinder
Whether in private residences, professional environments or public institutions, a locking cylinder is indispensable when it comes to security. It is available in different types, with different technologies, in different sizes and different materials. There are mortise cylinders, oval cylinders and profile cylinders. They are often equipped with an emergency function so that they can be opened even if a key has been left inserted on the other side of the door.
How the mechanical version works
The cylinder's housing is its base and is where the cylinder core is located. Also known as the rotor, this core can hold a key and can be turned if the key is the correct one, i.e. the cam fits. This is a code that must match as it were.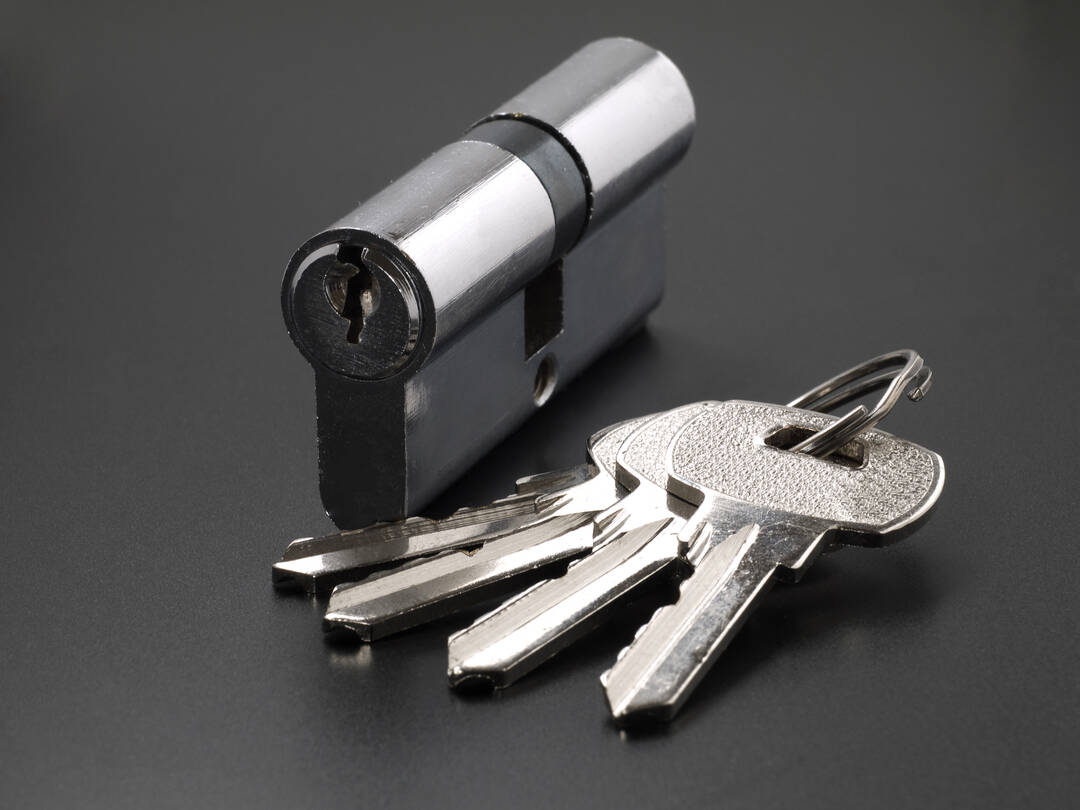 What different types of locking cylinders are there?
Not all locking cylinders are the same, which is why there are different types. The double cylinder, which locks from both sides, is most commonly used. Different modern variants can open and lock even if a key is inserted on the other side. The double cylinder is also referred to as a "profile cylinder" and is installed in entrance doors, for example.
A distinction must be made from thumb-turn cylinders. This type can only be locked on one side (usually on the outside) while the other side simply features a thumb-turn. This cylinder is also often installed in main entrance doors and also in basement doors, for example.
The half cylinder can also often be found in basement doors, garage doors and key cabinets. This type also locks on the outside only. It has a fixed length of 10 mm on the inside, the length on the outside is variable.
The lever cylinder is a little simpler: it is a simple cylinder with a rotating lever and can be found in letterboxes and lockers, for example. Aptly named, as is the cam cylinder, which is used in garage doors, rim locks and supplementary locks. In this case, the lock in the cylinder is actuated by a metal tongue.
There are also special locking cylinders such as the padlock and the blank cylinder. We are familiar with the padlock on basement doors, for example, or in bicycle locks and on garden doors, where it is used for anti-theft protection. A blank cylinder, on the other hand, takes on a special role because it does not lock at all. It simply conceals the cylinder opening in a door, preventing smoke from coming through in the event of a fire, and visual appearance is also a major factor.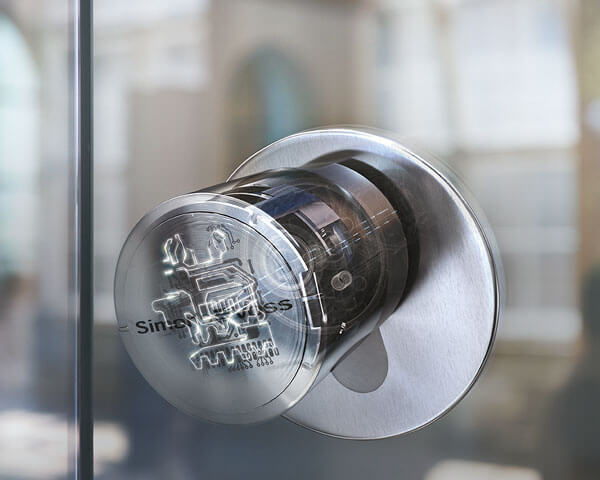 Distinguish between keyed-alike or individually keyed?
In addition to the different types, there is a further distinction in locking cylinders: between keyed-alike and individually keyed cylinders. In the first case, the same key can lock different locks, allowing users to open and lock the main entrance, their apartment door, the garage and the basement with the same key. Individually keyed locking, on the other hand, requires a separate key for each cylinder.
Limits of the mechanical locking cylinder
Although the conventional locking cylinder offers many options for securing people, objects and buildings, the various combination options also have one big disadvantage: it is almost impossible, for example, to use the same key for the front door, patio door and padlock on the basement as the profiles here are too different. If the user also needs company keys or other keys are added, they soon need to carry a large bunch of keys, which, in a worst case scenario, would incur enormous expense if they were lost.
Another disadvantage is that hierarchies cannot be mapped in locking levels. Large companies and institutions in particular need to hand out hundreds of keys to do so.
The solution? The digital locking cylinder
Considered "conventional", the mechanical locking system variant needs to be carefully planned in advance to map person groups and organisational structures. Although this may be complex, it is feasible. Nevertheless, things become difficult when new challenges arise, such as building extensions or even one or more new locations.
Yet there is no need for any worry at all. Electronic locking technology in the form of digital cylinders and a digital locking system will open up new, straightforward possibilities for meeting all challenges in access control with a flexible, uncomplicated approach. Safe and convenient
Pioneering technology
Many worries are now a thing of the past with digital locking systems. A lost key, for example, is no longer a problem since it takes just a few clicks to deactivate modern identification media such as transponders or smart cards. It now no longer poses a security risk.
Person groups can also be created and changed as required. This allows a wide range of areas to be created, where employees, guests, suppliers and others can be quickly added and removed with authorisations for specific areas and even for specific times.
There are also no problems with the aforementioned extension of building complexes as the locking system can also be extended. Thanks to cable-free integration, new digital locking cylinders are quickly installed and transponders can also be activated for them with just a few clicks.
Even more advantages of digital locking systems
You benefit from additional security as digital locking cylinders and identification media enable you to achieve maximum security. The cylinder is also secured mechanically so that even external force will prevent unauthorised entry.
You can also enjoy increased convenience since you no longer need to carry many keys with you. Instead, you have all access authorisations in a single RFID credential so you can open locking devices conveniently and contactlessly.
Using a digital locking system provides you with better control access to rooms: If people need to be grouped and may only enter certain areas, you can configure their authorisations individually and adjust settings at any time with just a few clicks.
Cost savings shouldn't be forgotten either, of course. If a key is lost in a mechanical system, all cylinders must be replaced and new key sets must be issued. Costs can quickly escalate to a five-figure sum. In a digital locking system, the credential is simply deactivated and security is restored in record time.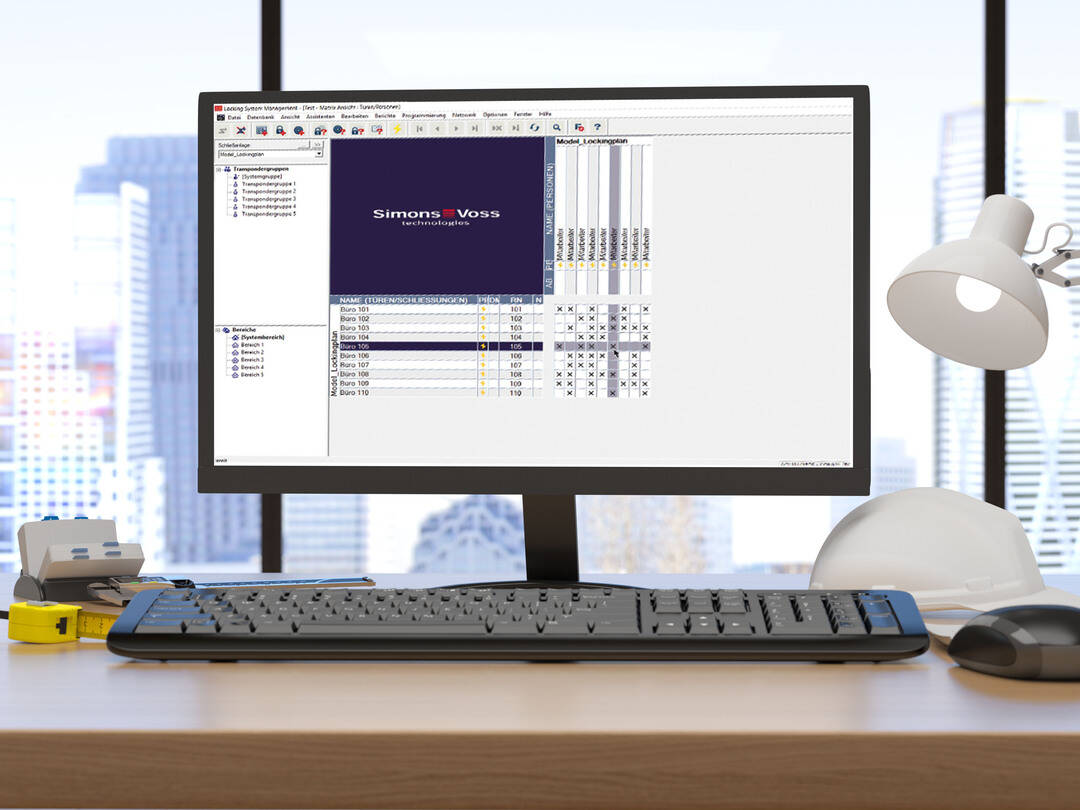 Rely on the experts
SimonsVoss has been a pioneer in digital locking systems for over 20 years. Join us on our journey to a keyless world. Our systems are designed in such a way that cylinders can be exchanged quickly and easily without any wiring at any time and offer high compatibility between components. Everything is extremely low-maintenance and meets top quality standards.
Try it out and enter the keyless world!