 Digital locking systems / locking cylinders
What is behind the term locking cylinder?
As soon as it comes to securing private homes, companies or public facilities, you can't get around them: the locking cylinder!
A locking cylinder describes different cylinder types and cylinder technologies. Locking cylinders are available in different sizes, shapes and materials. Depending on the design and use, the look can be round, oval or profiled. The respective naming is also structured accordingly: "round cylinder", "oval cylinder" or "profile cylinder".
Modern and convenient locking cylinders are often equipped with an emergency and danger function which enables doors to be opened, even if a key is inserted on the other side.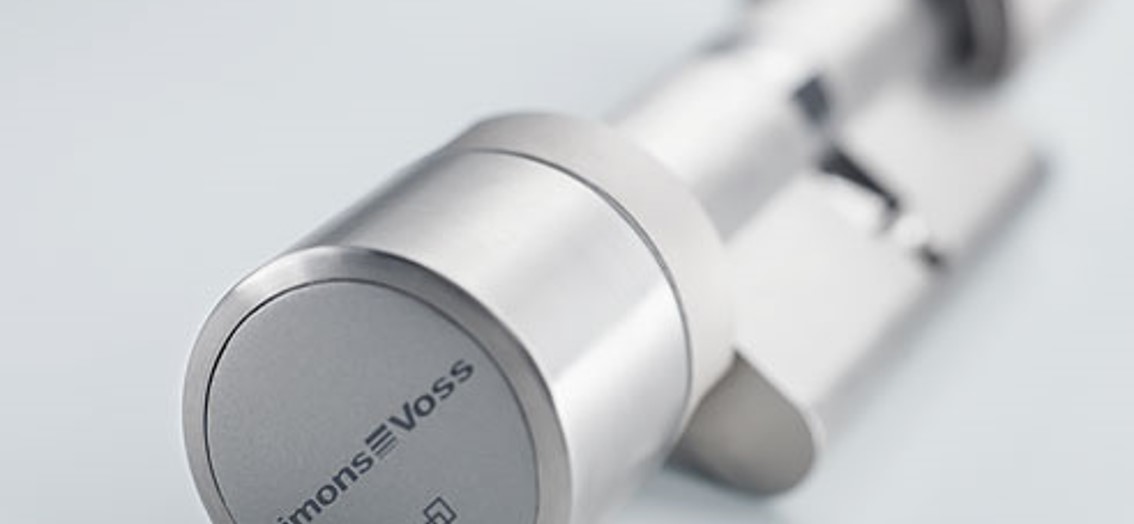 Components of a locking cylinder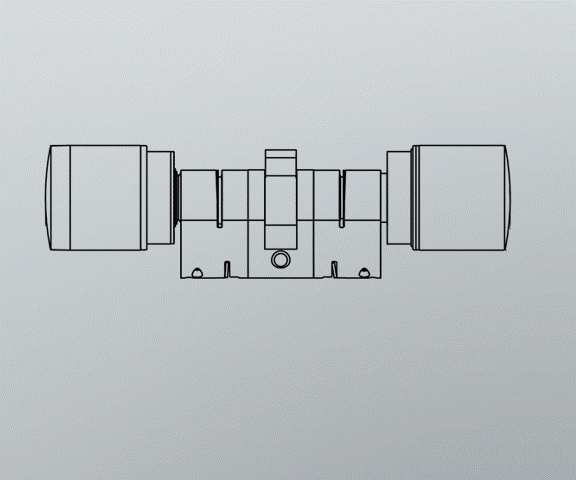 A locking cylinder essentially consists of the following components:
Cylinder housing
Cylinder core
Pin springs
Cam
Plug and housing pins
Hole for the fastening screw
(Key)
Mechanical locking cylinder - How it works
Basically, the function of a cylinder is simple: The identification medium (e.g. key, transponder or keycard) contains coding. If the coding matches the cylinder core, the locking cylinder can be locked.
As previously mentioned, the basis of a cylinder is the cylinder body ("stator"). This housing contains the cylinder core ("Rotor"), which can be rotated. This cylinder core has the holder for a key. The plug only moves if the appropriate key has been inserted correctly. Image tag: Locking cylinder Image tag: "Electronic locking cylinder" Keys and locking cylinders have a so-called "cam". This person is responsible for ensuring that the bolt is transported in the lock. It serves as a transfer part, so to speak.
Locking cylinders - Types
A distinction is made between different locking cylinder types depending on the area of application and requirements:
A double cylinder is most commonly used. This model offers the possibility to close from both sides. There are mordern double cylinder variants which also enable opening if a key is inserted in the key channel on the other side. The double cylinder is often also known as a "profile cylinder".
Application areas: Entrance doors, apartment entrance doors, basement doors, room doors
A knob cylinder offers the option of locking from only one side using a key (usually from the outside). There is a knob on the opposite side. This enables the door to be closed from the inside at any time. Important: A knob cylinder is not suitable for use in glass doors.
Application areas: Entrance doors, apartment entrance doors, basement doors
Half cylinders also only lock from the outside. Inside, the half cylinder is always 10 mm long. On the outside, the length can be extended variably depending on the application.
Application areas: Basement doors, garage doors or key boxes
The lever cylinder opens with a rotating locking lever. The lever is attached to the rear of the cylinder and exists in various variants.
Application areas: Mail boxes, safe deposit boxes, lockers, vending machines, lockers, light flaps
The outer cylinder is used for use in rim locks and additional locks. These are screwed to the inside of the respective door. By turning the key, a metal tongue activates the cylinder lock.
Application areas: Garage doors, cabinet locks, additional locks
A special locking cylinder is the padlock. The padlock, also known as a padlock or padlock, is often used for theft protection. The compact U-locks often secure valuables or smaller rooms with a chain or bolt.
Application areas: Bicycle lock, basement doors, attic doors, garden doors, gates
Another unusual candidate is the dummy cylinder. Doors that are not to be locked or locked can be equipped with dummy cylinders. This conceals the cylinder opening of the door, which prevents smoke from seeping through in the event of a fire, for example.
Application areas: Doors without locking function, fire doors that should not be locked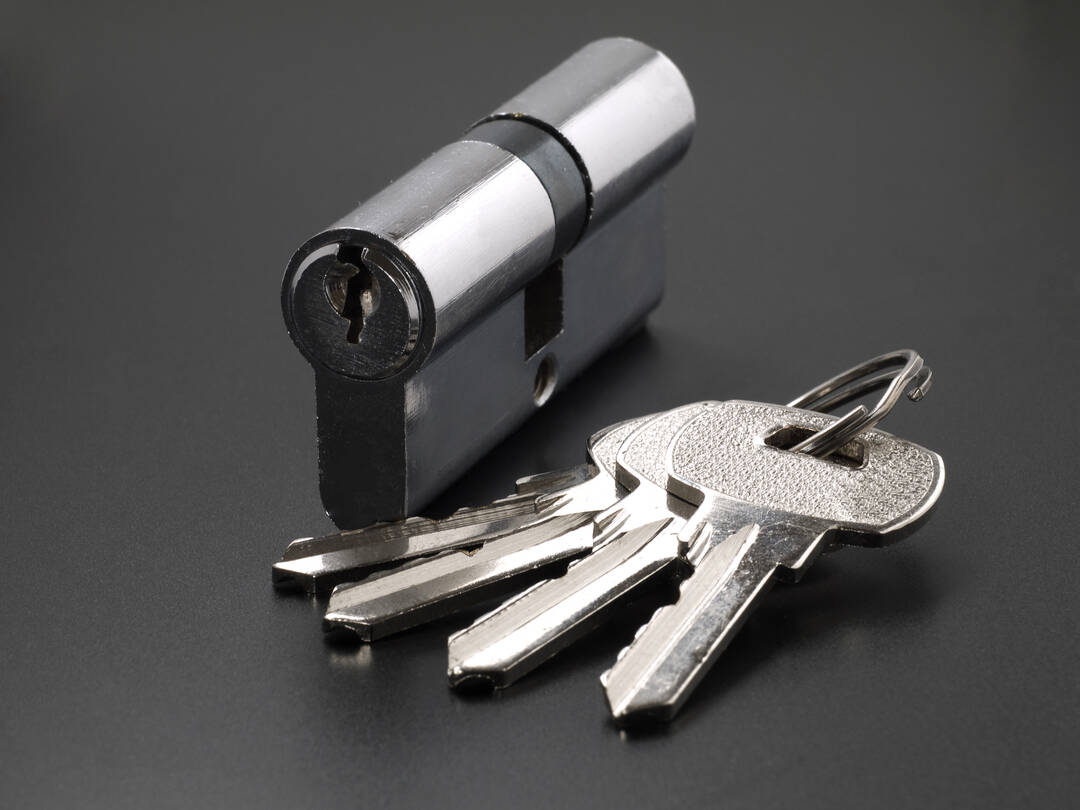 Locking cylinder – keyed alike and individually locking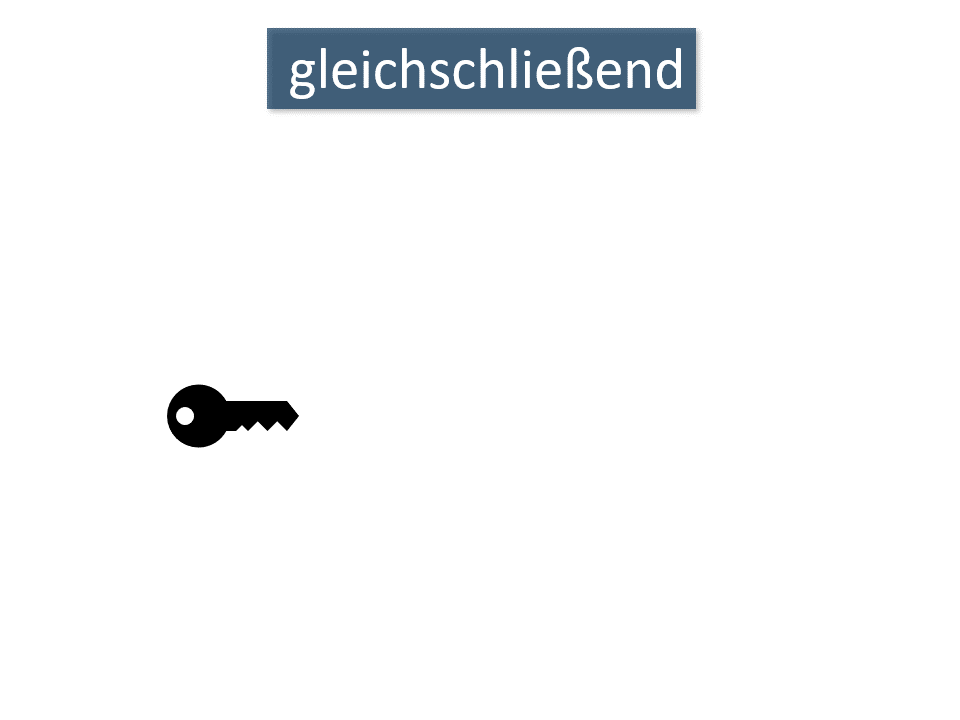 In addition to the aforementioned types, a distinction is still made between cylinders which lock at the same time and cylinders which lock at the same time.
With the simultaneously locking or simultaneously locking variant, it is possible to lock several locks with a single key set. This variant is often used in apartments so that the house door, apartment door, basement door, garage door and attic can be opened and closed with a single key.
A locking cylinder with an individual lock can only be locked with a key which has been manufactured to fit the respective cylinder. The key of this cylinder does not actually fit any other cylinder. Lockable handles of the patio door and balcony door, for example, are closed separately by means of a single lock.
Limits of conventional locking cylinders
The large number of variants and areas of application of locking cylinders offer different options when it comes to securing people, objects and buildings. However, these different combinations are also the greatest weakness:
The house entrance door and apartment entrance door ideally close with the same key. Terrace door and balcony, however, with different variants. The padlock for the basement and garage also requires additional locking cylinders or keys. If company or association keys are added, the bunch of keys comprises almost a dozen keys. Hardly to think about the enormous cost and time involved in losing the key ring.
Another disadvantage is the lack of ability to map hierarchies. It is almost impossible to depict different locking levels using conventional mechanical locking cylinders. Especially for companies or public institutions that have to issue hundreds of keys.
In the past, mechanical locking systems were generally installed to secure buildings. However, the design and use of these systems had to be well thought out and planned very precisely. Depending on the person group and organisational structure of the building, the effort behind the planning could not be underestimated, especially when it came to mapping access authorisations. The expansion of buildings faced an even greater challenge when conventional mechanical locking cylinders were used.
Fortunately, today, this concern is a thing of the past. Electronic locking cylinders offer completely new possibilities when it comes to securing buildings. These locking cylinders work hand in hand with electronic or digital locking systems and, in addition to security, offer enormous convenience.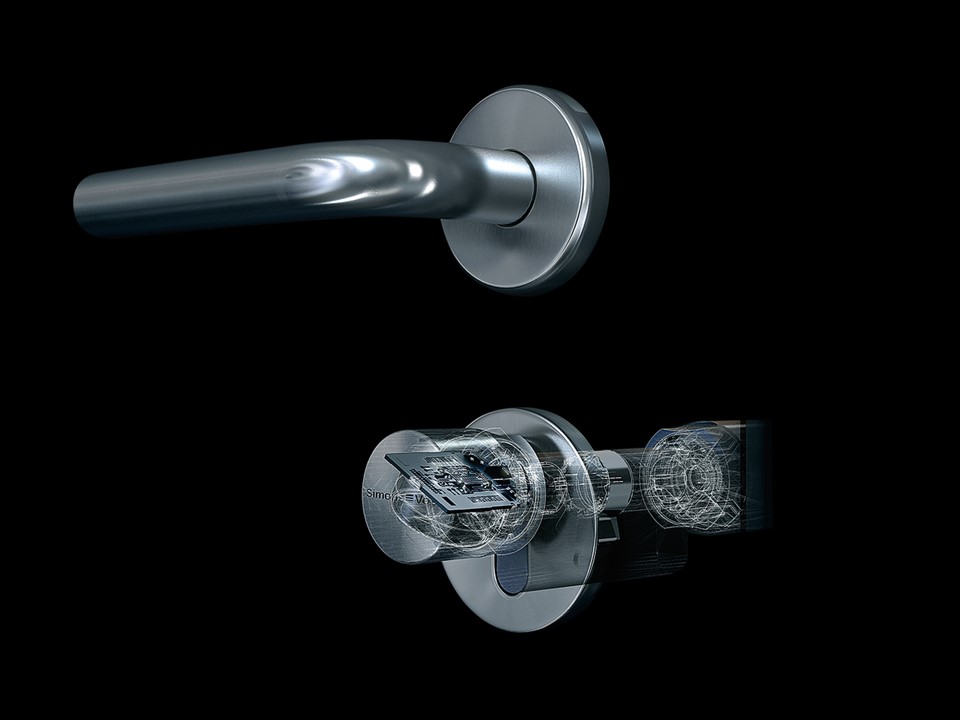 Pioneering electronic locking cylinders and digital locking systems
Key missing? No problem! Thanks to modern identification media such as transponders or smart cards, the digital key can be immediately blocked and replaced. Building security is restored with just a few clicks.
Representation of different groups of people with access to predefined areas? Electronic locking systems provide a remedy! The convenient creation of complex access authorisations gives employees, guests or suppliers access to predefined areas. This access can also be limited in time.
Do you want to expand a building complex? Digital locking systems can be extended! Electronic locking cylinders and associated identification media can be added as required. Modern locking cylinders are completely integrated wirelessly into new parts of the building. Previous transponders can be conveniently activated for the new building complex within just a few seconds.
< class="formatd-nodetypes-headline">
>
The fundamental components of a digital locking system can be divided into the following areas: Door components, identification media and software.
RFID Card
This includes a locking cylinder which has been specially developed for electronic locking systems. Door components also include a reader that works using RFID technology and can be installed in a wide variety of forms (reading stations, mobile devices, etc.) These components are connected to the in-house network to communicate.
ID Medium
The medium of a digital locking system is recorded and identified by the reader. There are also different variants here, e.g. as transponders or in cheque card format. The identification medium is divided into passive, active and semi-passive technology. But they all have one thing in common: They function without any contact whatsoever, which minimises wear on the media.
Software
The data exchange of identification media and door components must be registered and managed. This is where a software solution comes into play, which manages the information processes and controls the hardware components. This enables access authorisations to be conveniently changed or transponders to be replaced with just a few clicks, for example.
Areas of application of electronic locking systems
When purchasing an electronic locking system, the user's requirements play a major role. For example, a private household has different conditions and requirements than a school when it comes to securing people and valuable objects. Nevertheless, all sectors benefit from digital locking systems as they can be adapted to individual requirements.
Larger companies and public facilities must cover as flexible access authorisations as possible, as in addition to in-house employees, external personnel (e.g. suppliers or cleaning staff) must also be granted access. Facilities such as schools, hospitals or universities also benefit from keyless systems, as there is a frequent key change in these areas. An electronic locking system makes this easy and convenient. Another advantage is the lightning-fast reaction to the loss of an identification medium.
Residential security in private homes can also be covered by smaller digital locking systems. This system can be enlarged and upgraded as required so that entire apartment blocks or apartment blocks can be operated with digital locking systems. Building complexes of housing associations can centrally manage complete systems and monitor them online thanks to electronic locking systems.
But hotel systems also appreciate the advantages of digital locking systems. In the past, hotel room doors were often operated with wear prone magnetic cards, today a smart card opens contactlessly and efficiently. Personnel can easily issue, block or replace the respective identification medium without having to request specialist personnel.
Whether it's a company, public building, private home or hotel, all facilities also benefit from the possibility of using the smartphone as a key. Using the app, the access data is sent from the smartphone to the respective reader and access is enabled if access authorisation is available.
Other advantages of digital locking systems with electronic locking cylinders
Extra security
Digital locking systems offer the highest level of security. Thanks to digital locking cylinders and an identification medium, buildings with the highest security level can be equipped. Unauthorised penetration is usually prevented even in the event of external force, as the cylinder is also mechanically secured.
Extra comfort
Doors are opened with future-oriented identification media. This means that digital locking systems use an RFID medium which replaces the conventional key. Doors are opened conveniently and contactlessly.
Additional control
Should people be grouped so that only certain areas are accessible? No problem – access authorisations can be individually configured and controlled with digital locking systems. You can reprogram existing authorisations with just a few clicks without having to exchange the access medium.
Additional extras
Electronic locking systems can be extended as required. Connection to other digital systems and systems is possible without any problems. For example, a fire alarm control panel or alarm system can be connected, which triggers directly in the event of danger.
Cost saving
If a key is lost in conventional mechanical systems, all cylinders must be replaced and new key sets handed out. These costs can quickly be in the five-digit range for a multi-party house or large employee base. If the identification medium of a digital locking system is lost, the medium can be easily blocked and replaced so that the security of the building is immediately restored.
Electronic locking cylinders from experts in digital locking systems
SimonSvoss is the expert when it comes to digital locking systems. The pioneer of digital locking systems has been pursuing the vision of a keyless world for over 20 years.
SimonsVoss systems are designed in such a way that mechanical locking cylinders can be replaced easily, quickly and completely wirelessly. All components can be combined with each other and subsequently expanded. SimonsVoss electronic locking cylinders are particularly low-maintenance and offer the highest quality Made in Germany at the same time. Reach out to our UK experts to find out how our solutions can work for you.
Enter the #keyless World now - thanks to digital locking systems and electronic locking cylinders from SimonyVoss.