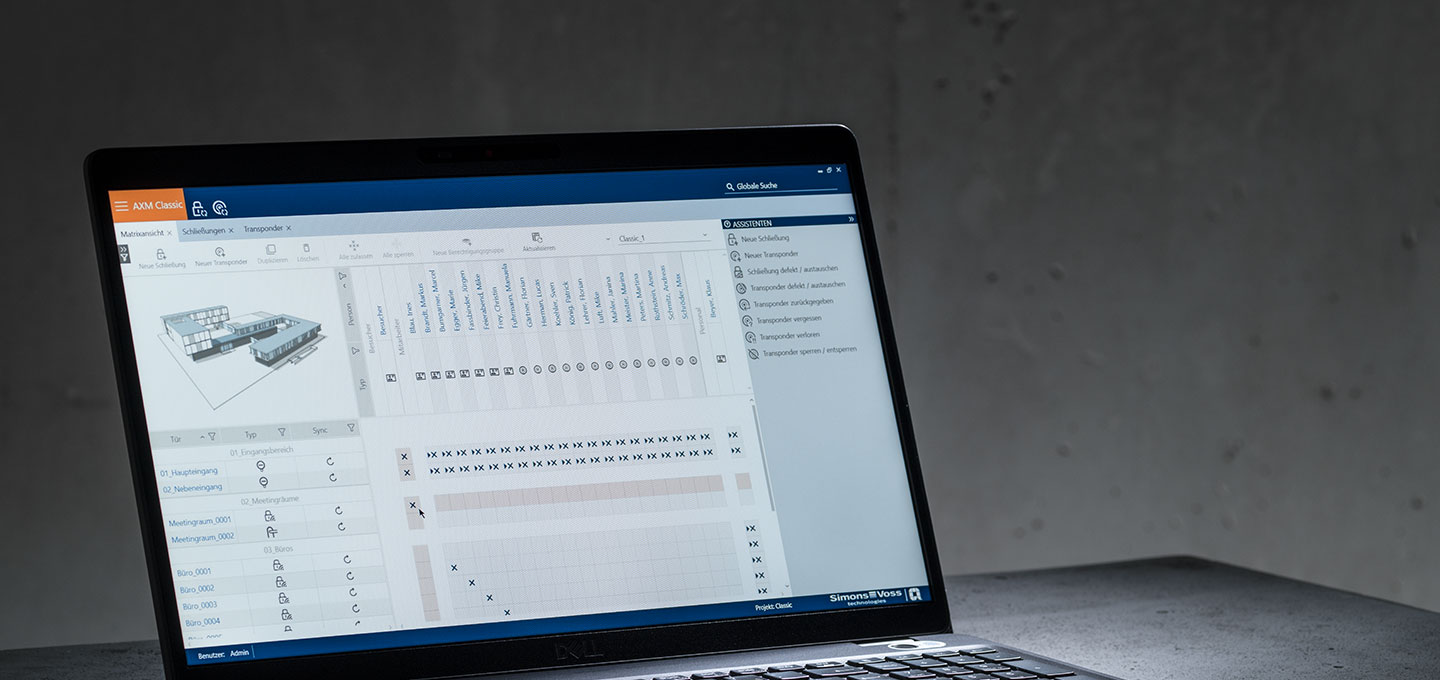 DOWNLOAD

Here you can download the current versions of the new AX Manager!
The AX Manager the next dimension of locking system management in System 3060.
In the AXM Lite Edition, up to 20 locks and 100 transponders can be managed. It is therefore particularly suitable for small companies and agencies with a corresponding number of doors.
AXM Classic Edition allows up to 64,000 locking devices and identification media to be managed per locking system in System 3060. This edition supports both SimonsVoss active transponder technology and passive RFID media. In addition to some standard reports, AXM Classic has features that allow GDPR-compliant work with personal data. All in all, AXM Classic offers a powerful range of functions which guarantees convenient and, above all, secure operation of many SimonsVoss locking systems.
Further editions will follow.
Highlights of the new AX Manager:
Modern and intuitive user interface with a sliding main menu, tab structures, icons and buttons
Progressive Disclosure - task-related presentation of functions. Information that is not required is hidden, e.g. irrelevant details on transponders and locks
MS SQL database - enables, for example, the automation of your own backup routines and processes
Guided wizards for frequently required tasks, such as creating and deleting components or the procedure in the event of a loss of a transponder
Doors and persons can be assigned multiple times to different authorization groups and linked to one another
Software grows with its tasks - the transfer of AXM projects to higher editions is possible at any time
AXM Classic
Extension of an existing AXM Lite edition possible
64,000 locking devices and identification media
Unlimited projects and locking systems
2 users (Admin and Admin AL)
Card support (RFID media)
Full functionality for non-networked locking systems
G2 and AX components
SmartCD(2).G2, SmartCD.MP, SmartStick AX
GDPR-compliant work process
90-day trial with subsequent registration
Local installation and fee-based single-user licence
AXM Lite:
Entry-level solution in the new AXM software
20 locks, 100 (active) transponders including TRA.Pincode
1x project, 1 x locking system and 1 x user (admin)
Basic functions for locking system management (offline)
G2 and AX components
CD.Starter.G2, SmartCD(2).G2, SmartStick AX
90 days trial version with subsequent registration
Local installation and paid single-user license (version-based)
DOWNLOAD der aktuellsten Installationsdateien der AXM: