 Locking technology in holiday lets
When families with children go on holiday, many prefer a holiday apartment over a traditional hotel. Routines can be perfectly adapted to a family's needs and the often comfortable facilities are also a good argument for choosing a holiday apartment.
Day 1 on family holidays is usually involves arrival and growing excitement as the family gets closer to their holiday destination. What is the area like at holiday time? In many cases, answering this question still requires a central office on site, where the key to the holiday apartment is handed over. Property management agencies or a reception are the typical places for a mechanical key.
There are also other possible options for getting to the key on site:
1. The key hiding place
This is still a very popular method. However, many people are familiar with conventional hiding places such as under floor mats or in mailboxes. These are the first places where unauthorised persons look. This makes it easy for thieves to enter holiday apartments.
2. Key handed over by owner or acquaintances at accommodation
The most obvious option for handing over the key is for owners to hand the key over themselves if they are nearby. If this is not the case, the key will also be left temporarily with acquaintances to then be handed over new arrivals. However, this requires a high level of trust and the constant presence of a third party on site. Contact is thus always passed through an intermediary, which can quickly lead to problems between the landlord and the guest.
3. Key handover by an external service
An alternative is what is known as a rental service, which also hands over keys for holiday apartments. This is particularly suitable for holiday apartment owners who do not want to live locally and wish to put their keys in safe hands. However, such a service incurs additional costs and can quickly become expensive if guests change frequently.
4. Key safes for holiday lets
A very popular way of handing over the key to holiday apartments is to install key safes. These can be opened either with a separate key or by entering a numerical code. The second variant is often used in holiday lets. The code is sent to the visitor before arrival so that the entrance door key can be picked up directly at the holiday apartment.
But this is also a major risk: to ensure the holiday apartment is secure, the code would need to be changed at regular intervals, ideally after every booking. This involves considerable organisational for holiday apartment owners, so the code often remains unchanged for months.
5. Key handover at local shops
Local shops located near the holiday apartment also often handle the exchange of keys. However, handing over keys in this way is only possible in large cities and can only take place during shop opening hours. This means a late check-in is ruled out from the start.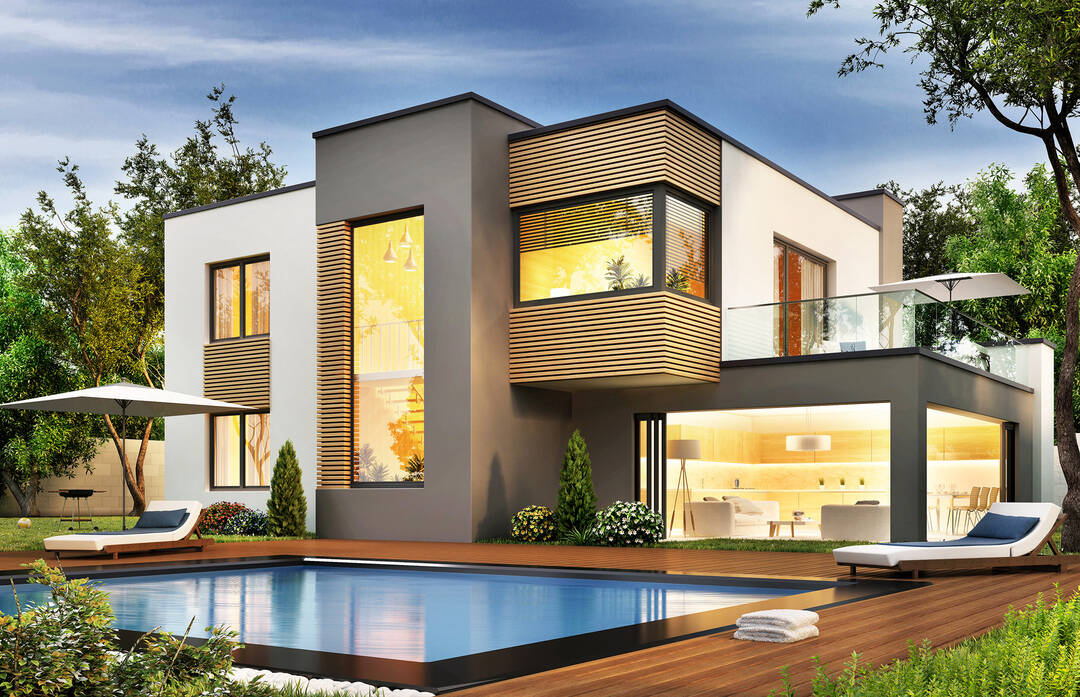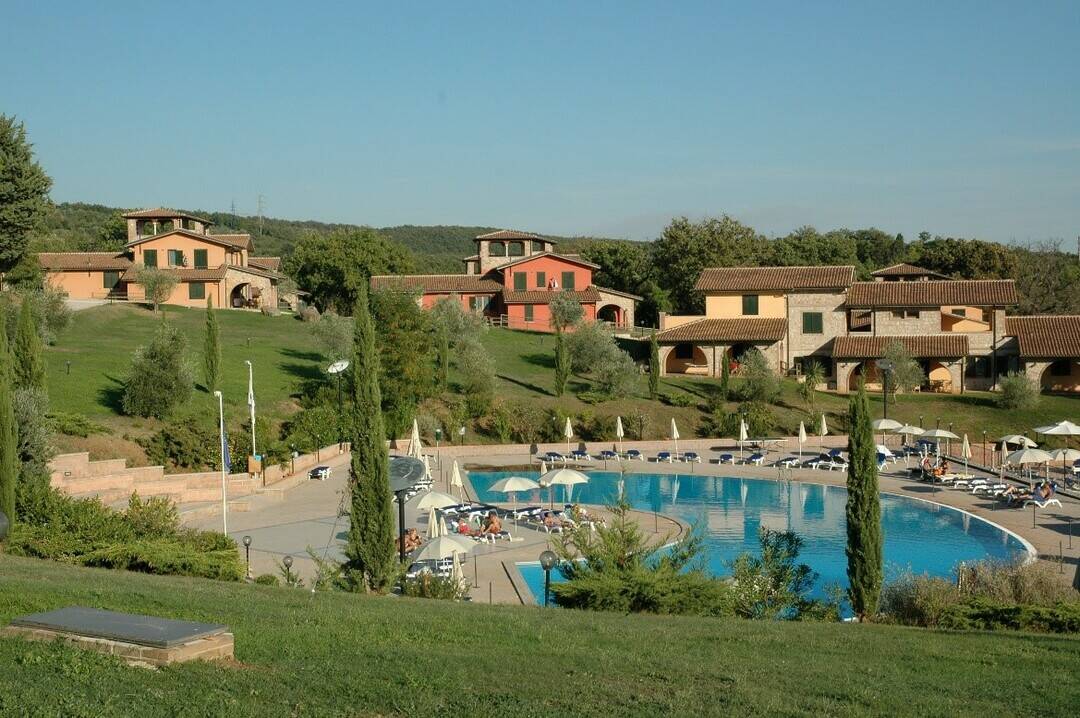 The challenge with holiday let keys
The aforementioned options for handing over holiday let keys are still used today. However, there is a snag with all these options. Be it a lack of security, a great deal of administration for the operator or the risk of guests left standing in front of locked doors. The key handover must therefore be optimised in many respects to ensure access management of holiday goes smoothly.
There is also the possibility that someone loses the holiday apartment key. This is where an extensive search begins. In a worst case scenario, this means the locking cylinders need to be replaced, because the key cannot be found and the holiday apartment would therefore no longer be secure. All of this takes a great deal of time and money.
An effective way of managing keys to holiday apartments is to use digital access control. Firstly, this takes the pressure off the holiday apartment owner and ensures they lose no sleep at night. Secondly, it means satisfied, returning guests who appreciate the comfort of the holiday apartment.
Key handover using access control
The use of digital access control is already widespread in companies and public institutions. But more and more private providers are also using the option of keyless access. The conventional key is replaced by a digital locking medium such as a transponder or a key card and activated as required. If such a digital key is lost, it can be disabled and replaced immediately.
Holiday let owners also benefit from the use of access control. The credential can also be left outside apartments ready to be picked up but with no need to worry about security: the operator configures access to the property with just a few clicks so that the transponder provided only works from a certain point in time. Alternatively, the transponder can also be sent by post before the holiday. Either way, no codes need to be exchanged or changed nor does the guest need to take a detour pick up the key from an intermediary. This ensures the holiday apartment is secure at all times, meaning operators and guests do not have to worry about lost keys or unauthorised entry.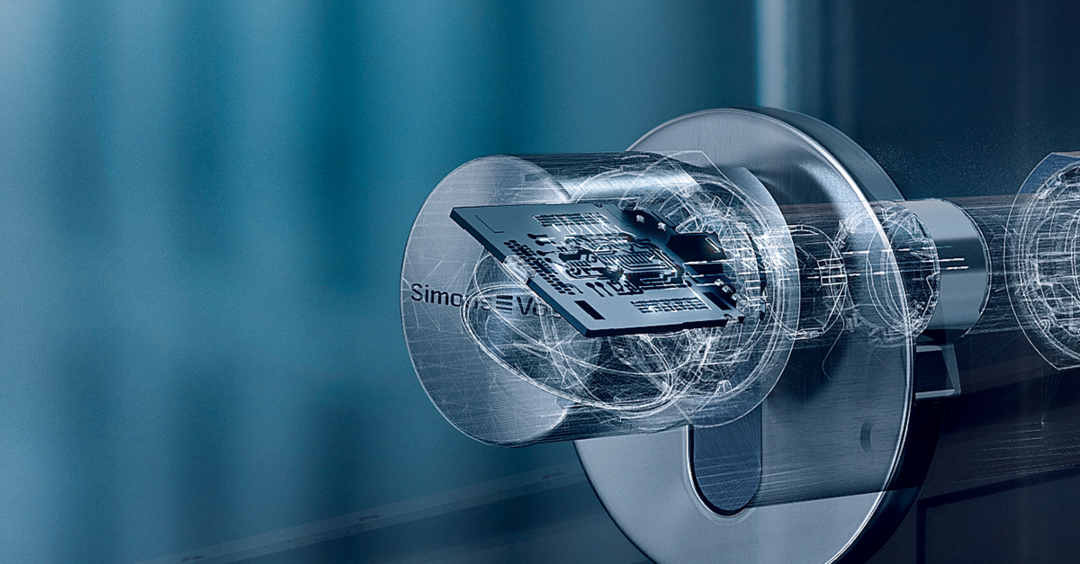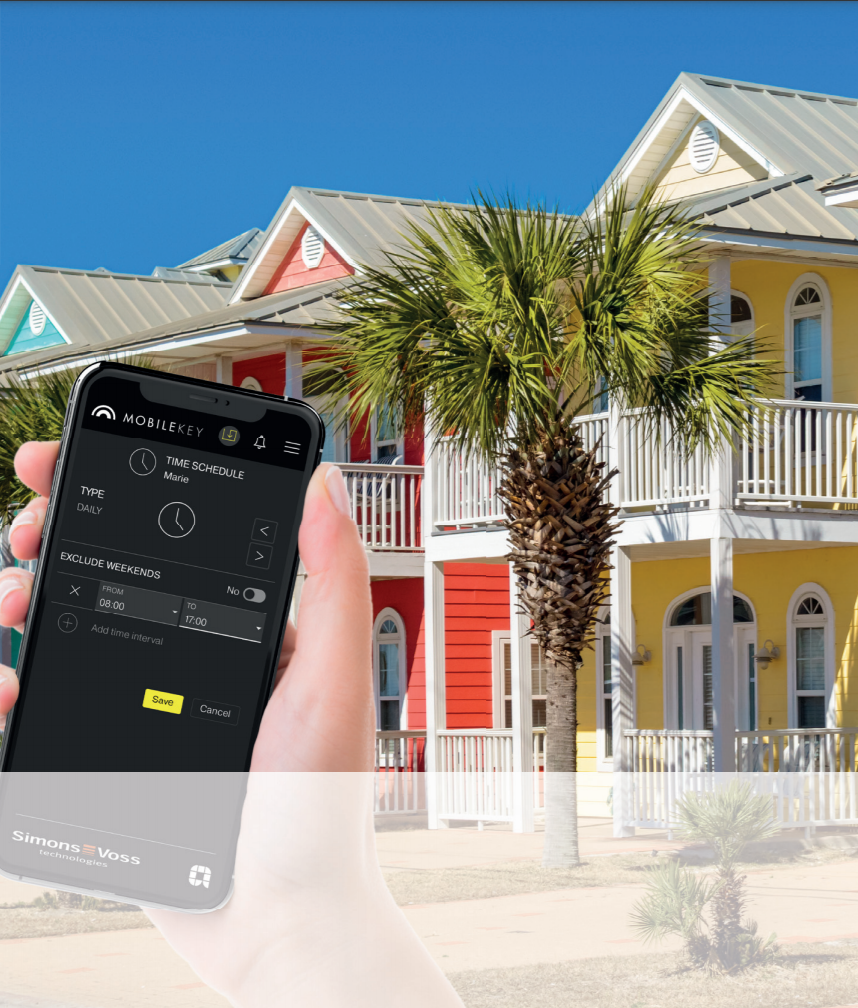 Application examples for digital access control in holiday lets
Although the holiday apartment itself is already an example of how digital locking technology can be used, there are other areas where it brings advantages for holiday lets. It can be used to manage staff or external service providers, for example: cleaning staff receive their own access medium, which they can use to enter the holiday apartment easily. This access can also be granted on a temporary basis. As soon as the guests have checked out, the staff arrive at the holiday home and can carry out any work that needs to be done. Keys are then handed over automatically so that owner administration is reduced to a minimum. If there is more than one holiday apartment which needs to be accessed by one service provider, just one single access medium can be used for a number of apartments.
Thanks to the web application, locking plans and access authorisations can be created on any internet-ready PC without anyone needing to be present in person to configure the medium. The data is retrieved via the browser and stored on the manufacturer's server, ideally located in Germany. This means that backups no longer need to be initiated manually and the system is always up to date.
Smartphone app for access control in holiday apartments
The system can be conveniently managed on a smartphone or tablet using the app. This allows the operator to open the door remotely – if the guest has been locked out, for example. Notifications also provide greater security with door monitoring verifying the status of open entrances. If a door is open too long, the system administrator will immediately receive a message on their mobile device.
The holiday apartment guest can also benefit from the smartphone, e.g. if the entrance door is not operated with a key but features a combination of a digital locking cylinder and PIN code keypad instead. Previously equipped with simple mechanical locking cylinders, the entrance door is retrofitted with state-of-the-art digital locking technology using the MobileKey system by SimonsVoss. The two-piece sets each consist of a digital locking cylinder and a flat PIN code keypad, which can be installed both indoors and outdoors without any wiring. The digital locking system is configured using a free web app. The MobileKey all-inclusive solution is suitable for up to 20 doors and 100 users.
Installing a digital access system
Setting up an access system in holiday apartments is foolproof. Existing mechanical cylinders are replaced and the new components installed without any wiring. Modern locking components can be installed in just a few simple steps without drilling or special tools. If the holiday apartment is extended, the system can be upgraded easily.
Once the software is up and running, all functions can be managed from any internet-ready device in the world. Users are thus created or disabled, access authorisations changed or the status of doors queried within a very short time.
Your advantages in brief
No more complications handing over keys
Digital keys are easily provided in the form of a digital locking medium (e.g. a transponder) and enabled for the booking period on an individual basis.
Maximum convenience with minimal administration
Once the system is configured, visitor profiles can be created with just a few clicks so that access is conveniently provided immediately without any intermediaries or waiting times.
Automated staff management
External service providers receive separate access in the form of a personalised locking medium, which provides access to several properties at the same time.
Maximum security
No more worrying about open doors or lost keys thanks to door status monitoring.
Web application and smartphone app
Access control configuration, administration and notification for holiday lets can be managed from anywhere in the world using a browser or app.
Simple installation, easy retrofit
Mechanical cylinders can be replaced with the digital version in a matter of minutes – with no cables, dirt or drilling!
Easy system extension
If the holiday apartment is extended, additional locking components can be easily integrated and are immediately ready for use.
State-of-the-art holiday lets thanks to digital locking technology
Take advantage of the option of digital locking technology for holiday lets. Modern locking systems not only increase convenience, they also increase the value of the accommodation. Satisfied customers are guaranteed to appreciate the luxury of a trouble-free holiday and become regular guests.