Fire alarm system
What actually happens when a fire alarm signal is emitted? Who decides whether there is a false alarm or an acute emergency? How are lifts and other fire protection components controlled in a large building complex? A fire alarm system manages complex processes as soon as there is a risk of fire in default.
What does a fire alarm system do?
The fire alarm system belongs to the family of so-called danger alarm systems and is used for preventive fire protection. A fire detection system comprises several elements and components for the protection and containment of fires. These include sensors (smoke and fire detectors), automated extinguishing agents (sprinkler systems and/or air sampling smoke detection systems). The heart of a fire alarm system is the Fire Alarm Centre (BMZ).
Escape route lighting, fire service key depots and reception units or roller shutter controls can be integrated as extensions to a fire alarm system.
Triggering a fire alarm system
An alarm is activated in the event of an emergency or fire. The responsible fire department is informed immediately via the telephone line or mobile phone network. As part of this process, other responsible persons are often informed of the fire alarm system by SMS or voice call.
How does a fire alarm system work?
The fire alarm system uses different fire detector parameters to determine whether a fire event exists and to what extent it must be responded to. The following parameters can be used as a reference source, among other things:
Predominant smoke generation

Temperature of a room

Development of flames

Reaction of installed fire extinguishing systems
What is a fire alarm centre?
The fire alarm centre (BMZ) is the most important element of a fire alarm system. The fire alarm system collects all incoming signals and information from the individual monitoring and fire detection systems located in the building. The collected information is analysed and evaluated by the fire alarm system. The result of this evaluation serves as the basis for the subsequent control of necessary actions.
The fire fire alarm centre often contains the central control unit and a fire service control panel. If these elements are installed separately, the control panel and other components are housed in a fire department information centre.
Actions of the fire alarm centre
The basic actions and reactions of a fire alarm centre can be categorised into the following areas: Reporting, alerting, controlling, informing
Reporting
The main reports are the detection of fire, smouldering fires and conspicuous heat developments. However, the generation of visible and invisible smoke aerosols is also part of the reporting function of a fire alarm system.
Alerting
One of the most important actions is alerting the responsible fire station and possible internal security forces. The fire alarm system also alerts the people in the building
Controlling
The fire alarm system controls various fire protection components. These include alarm devices, extinguishing systems, machines, electrical equipment, smoke and heat extractors and fire doors/flaps.
Informing
The evaluation of the analysed information can be controlled in various ways via the fire alarm centre. Typical information variants include output via a control panel, a printer or via an installed map table.
Concrete action examples of a fire alarm centre
Detect potential fire hazard and trigger an internal alarm to check if there is a false alarm or false alarm before alerting the responsible fire department
Direct forwarding and alarm of a fire signal to the control centre of the responsible fire department
Control and inspection of lifts
Activation of an internal building alarm with instructions for evacuating the property via escape routes
Closure of fire protection barriers and opening of smoke evacuation elements to prevent further fire development
Activation of installed extinguishing equipment of the building complex
Opening doors to allow escape routes or access routes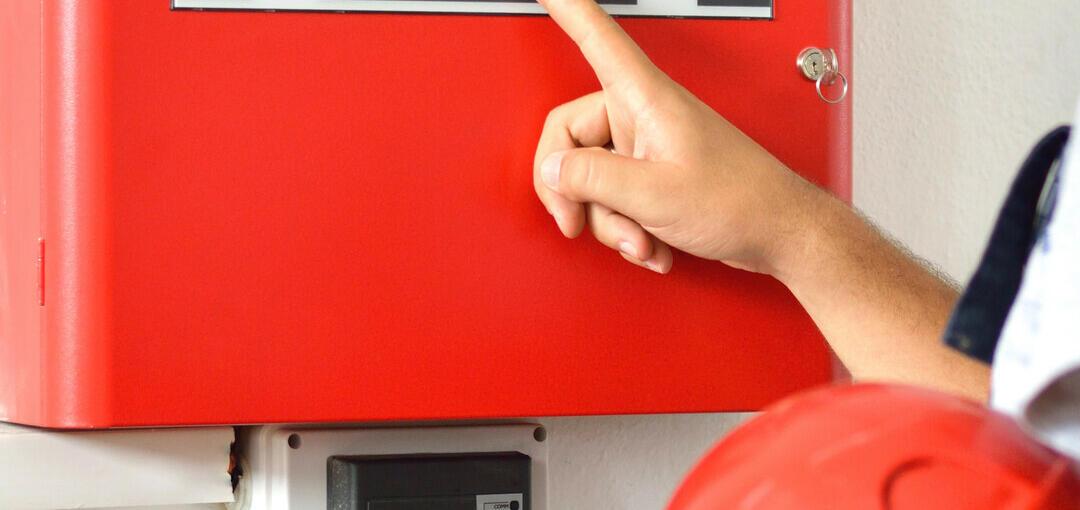 What happens when a fire alarm system is triggered
As soon as the fire alarm system has triggered, the fire brigade's emergency services can gain access to the building. The fire alarm system's triggered detector can be located by the fire department using a fire service display panel (FAT) or a fire alarm panel. A fire service control panel assists the emergency services in controlling the fire alarm system. If a fire alarm panel is used, the respective detector is identified on a floor plan map of the building by means of an LED. The routing card box contains fire service routing cards, which can be removed by the emergency services. Thanks to these elements of the fire alarm system, the fire department can find the endangered location immediately and plan the fastest access route. Optionally and depending on the size of the property, the fire department can request a routing card printer when installing the fire alarm system. This makes it possible to print tickets on site in an emergency.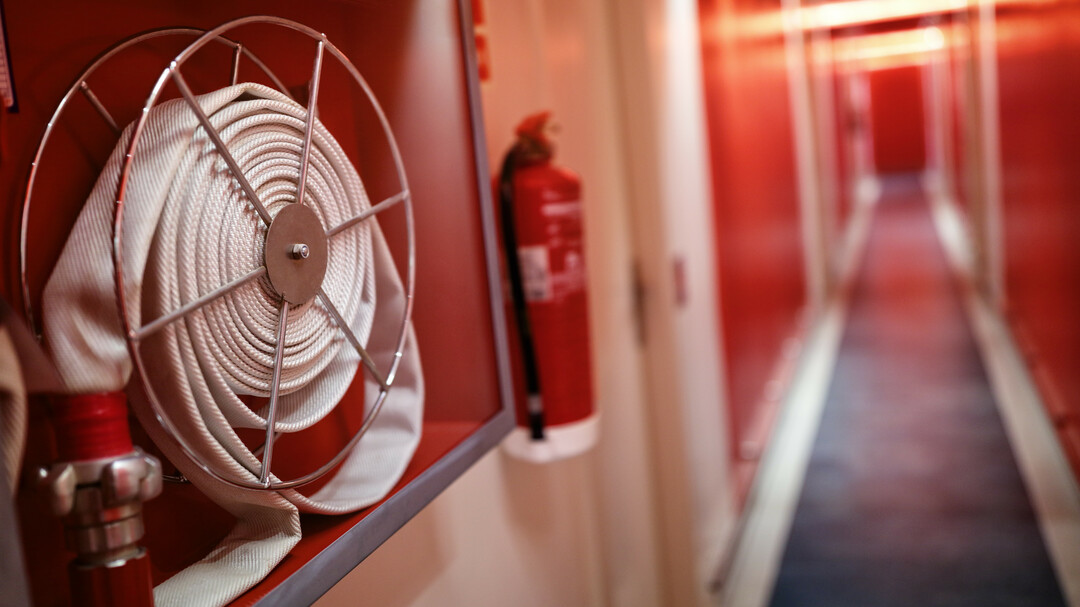 Where is a fire alarm system used?
Fire alarm systems are usually installed in buildings or complexes where there is a high risk of fire. This includes schools, company buildings, airports, hospitals, train stations, office complexes, universities, factory halls or retirement homes.
Is a fire alarm system mandatory?
Building code law stipulates the installation of a fire alarm system as part of the special building regulation. The connection of the system to the responsible fire department is also a prerequisite. The building inspectorate can request the installation of a fire alarm system if required. In addition, a fire alarm system to limit insurance premiums can be taken into account.
Categories of fire alarm systems
The following types of protection are categorised when classifying fire alarm systems:
Category 1: Full protection of the entire building complex
Category 2: Partial protection of one or more individual fire compartments
Category 3: Protection of a building's escape and rescue routes
Category 4: Equipment protection for valuable items, for example
Advantages of fire alarm systems
The advantages of a fire alarm system are the prompt detection of fires. Regardless of the presence of persons, necessary measures can be taken quickly and efficiently. Thanks to the rapid intervention, the alerted persons can fight fires as soon as they occur and prevent worse. In particularly sensitive areas such as schools, hospitals or hotels, a fire alarm system serves to protect people and alerts people in the building immediately. However, a false alarm or the deliberate activation of fire detectors must also be taken into account by fire alarm systems in order to avoid false alarms.
Disadvantages of fire alarm systems
However, fire alarm systems are also often criticised. One reason for this is the fact that older systems often no longer meet current technical requirements. In addition, operating a system requires a certain level of specialist knowledge, which is only available to trained personnel. In hazardous situations, operating errors can have devastating consequences. The opening of doors to bring people into safety is therefore not 100% guaranteed. The access of emergency services to the source of danger can also become a problem in the event of operating errors or outdated technology.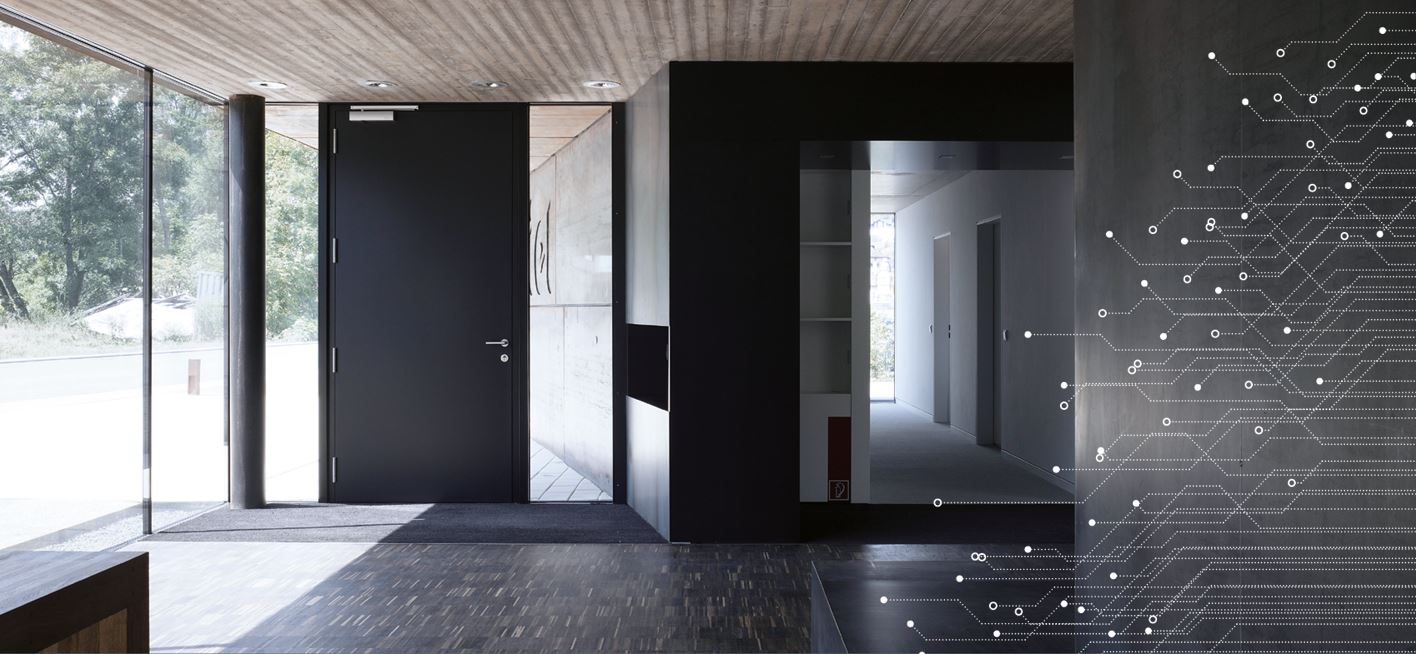 The solution: Fire alarm systems in conjunction with digital access systems
The combination of fire alarm system and digital access system offers the best of both worlds in order to eliminate human errors and implement a smooth emergency plan. SimonsVoss access systems provide lightning-fast access to the fire alarm centre or fire alarm system.
The online networking of SimonsVoss systems offers the highest security standards in the event of a fire. As soon as a fire alarm is triggered, the signal is forwarded to the respective fire alarm system. This now not only informs the fire department, but all access components at the same time. The intelligent SimonsVoss technology immediately opens all doors so that people can gain immediate access to security. At the same time, the fire brigade has access to all areas without losing valuable time studying access routes.
However, the online access system not only guarantees protection in the event of a fire. SimonsVoss systems also offer unique protection functions for door monitoring in other emergencies - e.g. Doors Image tag: Access control – digital locking system SV photo block in the event of gunman attack scenarios or automatic notifications in the event of malfunctions and hazardous situations.
Offline access to all areas also possible
If an online network is not installed, a SimonsVoss digital access system still offers emergency services immediate access to all areas. A fire service key depot can be set up at a well-known location inside the building. Secure storage is also possible outdoors via a fire service key safe. In any case, this space should be as close as possible to the fire alarm system. Upon arrival, the emergency services remove the transponder from the depot or safe and use it to gain access to all doors of the building complex and can directly penetrate the source of the fire.
SimonsVoss your expert for digital locking systems in conjunction with fire alarm systems
SimonsVoss digital access systems secure your building with intelligent, digital locking components which can be directly networked with the integrated security systems. The unbeatable combination of fire alarm systems, fire alarm centres and SimonsVoss systems guarantees the highest level of security. Constant protection of people and the fastest possible access to possible sources of fire increase the security level of your building many times over.
Enter the KEYLESS World now and protect people and buildings comfortably and sustainably
with German-made quality!