Door Monitoring,
Door Status Monitoring
What is door monitoring or door status monitoring?
Door monitoring provides an overview of the complete status of doors in a building complex at all times. The door status monitoring informs the user about possible statuses of individual doors:
Is the door open?

Is the door closed?

Is the door locked?
But other information can also be exchanged via door monitoring. For example, a message can be output if a door is open for too long and has not been locked.

Possibilities for door monitoring
The simplest form of door status monitoring is electrical door monitoring. This type of monitoring is used, for example, to prevent misuse of escape routes. Escape doors are not locked in the direction of escape, but merely monitored.
Unauthorised opening of the escape door can be easily detected and made noticeable in acoustic or optical form by means of door contact monitoring. This message is also possible centrally for networked systems. A pre-alarm function can even be implemented using combination systems consisting of locks with pressure monitoring.
Door monitoring via digital locking system
Mechanical locking systems are now part of the old iron and are gradually being replaced by modern and convenient digital locking systems. This enables a multitude of new possibilities when it comes to monitoring door statuses at all times.
With a conventional digital locking system, you can easily see who has gained access to a door and when. In many cases, this type of information is sufficient. However, there are also door monitoring systems that are interesting for special status information and can map several door statuses.
Door status monitoring for special purposes
Doors such as exterior doors, fire doors, server room doors or medication cabinets are important not only to display the status "open" or "closed" via door monitoring. In such cases, intelligent door status monitoring is necessary to obtain clear information and to be able to act appropriately in the situation.
Sensors in the fastening screw and cylinder monitor the status and status changes of the door.
The status information can then be sent directly to e.g. facility manager or security personnel.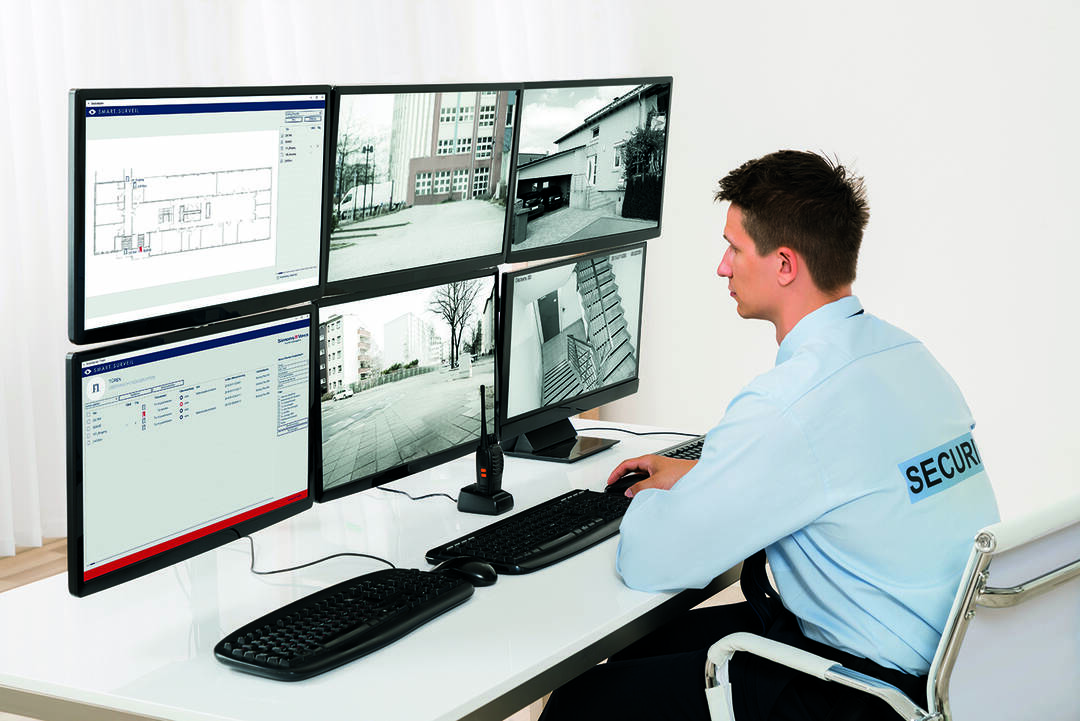 Examples of door monitoring applications:
In a building with multiple entrances, personnel must ensure that all doors are closed before the end of the day. In a larger building complex, daily inspection of all affected doors can take a considerable amount of time. A door status monitor can be used to query which door is open or only closed. This allows doors to be located and locked in a targeted manner.
In the case of fire doors, it must be ensured that they are closed at all times. This is the only way to ensure that a possible fire can spread. With door monitoring, facility managers are immediately Image tag: "Door status monitoring" informed when such a door is open. If compensation is required after a fire, it should be possible to prove that all fire doors were closed.
Another example is server cabinet or pharmacy cabinet doors. These specific types of doors are subject to clearly regulated security policies. Sensitive data or prescription drugs must be secured against unauthorized access. Only intelligent door status monitoring can remedy this situation, as such doors must be opened regularly by personnel. However, if such a door is open for too long and may have been forgotten to lock, a message must be displayed to close the security gap.
Requirements for digital door status monitoring
Digital access control is required to be able to install intelligent door monitoring or door status monitoring.
An access control system allows authorised persons to enter the building or certain areas. The principle for the safety of persons or objects is always: "Who is authorised to access when and where?". In conjunction with door status monitoring, access control defines the authorisations of access categories, which can be individually adapted. This applies to both local and temporal restrictions.
Digital access control consists of at least three different elements. Firstly, from the digital locking device, which executes all monitoring and control functions for the respective door. On the other hand, from an identification medium which replaces the conventional key and grants access at the respective door. The third component is the central system control, in which access authorisations are managed centrally and sent to the digital locking device and identification medium.
SimonsVoss – Your expert for digital access systems with door status monitoring
SimonsVoss, the pioneer in digital locking technology, is the first point of contact when it comes to access systems. The radio-controlled, wireless access control systems combine intelligent functionality with highest quality "Made in Germany". As one of the technology leaders in digital locking technology, SimonsVoss designs its systems with a particular focus on reliable components, high-performance software, scalability, simple operation and, last but not least, maximum security. SimonsVoss's success is based on sustainable thinking and acting as well as a high level of appreciation among employees and partners. Thanks to its courage to innovate, SimonsVoss is always one step ahead with its digital locking systems and offers modern solutions. These include Proposal 1: Image tag: "Door monitoring" Stock Photography ID: Proposal 2: Image tag: "Door monitoring" Stock Photography ID: 510232522 functions such as door monitoring and/or door status monitoring:
"DoorMonitoring"
DoorMonitoring – the perfect solution for door monitoring
The door monitoring system developed in-house consists of a locking cylinder with door monitoring function and the corresponding software solution. A sensor in the cylinder fixing screw reliably monitors the status of the door. Another bolt sensor simultaneously monitors whether the bolt is fully extended or retracted. These components enable the logging of states and incidents and can thus send status information via the network.
In-house door status monitoring can be installed and used wirelessly within a few minutes.
SmartSurveil enables door statuses detected via DoorMonitoring to be displayed visually. The program can be installed independently on a PC and operated separately from the management of the locking system, e.g. to commission a security service provider to monitor the door. For example, if a door is open for too long, security personnel receive a message that is displayed directly in the building plan and can take appropriate measures.
Thanks to intelligent door status monitoring, doors can be grouped together in monitoring groups to specifically control certain areas. A direct action with networked doors is also possible, for example, which enables remote opening or emergency release. In order to optimise the accuracy of the display, it is possible to import building plans, transfer the doors to the plan using drag & drop and then display the current door status.
Other advantages of digital locking systems with door status monitoring
Modern building systems must withstand highly complex requirements. This concerns clearly prescribed security policies to protect the building and its occupants, valuables or data. In addition, a certain degree of flexibility is necessary in order to be able to respond to a wide range of requirements. A digital locking system with intelligent door monitoring fulfils these requirements, can be quickly extended and consistently functions wirelessly. The installation of such a system also offers further advantages:
Greater security and control
Wireless door monitoring enables control of sensitive areas. Security doesn't just mean being able to quickly and easily block a lost key. Among other things, security also means protecting electronic identification media from unauthorized copying.
More quality
The individual elements and components are manufactured by the pioneer of digital locking technology at its own production site in Germany. This means: maximum reliability and quality MADE IN GERMANY.
Greater convenience
Doors can be conveniently opened and closed at the push of a button thanks to electronic keys (identification media). This ensures security for your own employees, guests, objects and data at all times. SimonsVoss access systems provide a comprehensive overview of current access authorisations. These access rights can be changed easily and flexibly at any time.
More service
You can rely on the SimonsVoss team at any time and receive reliable support on site, by hotline or remotely.

Completely future-proof investmentSimonVoss's guiding principle is: problem-free and cost-effective expansion of every SimonsVoss system. This is why the expert in digital locking technology guarantees full upward and downward compatibility of its own products and systems, so that software and components can be easily expanded even after many years.
Enter the world of digital access control with modern door status monitoring. Always keep an overview at all times and thus protect people and buildings comfortably and sustainably
with quality Made in Germany!