 An Inside Look at the Technology In Access Control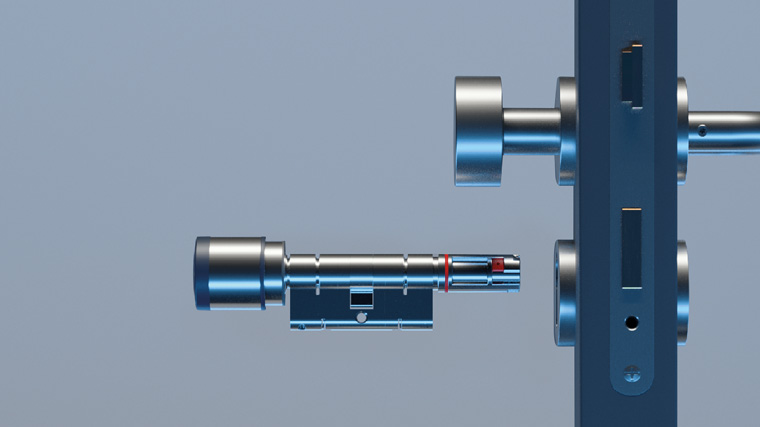 Over the years, implementing stringent access control measures has become more common in businesses premises, care and education facilities and letting property. Facilities, security and operations managers all realise the importance of protecting their assets and keeping people safe on their premises. Whether it's an office, school, care homes and medical buildings, public library or co-working space, advances in technology give you visibility and control over your access from anywhere in the world, while improving efficiencies at the same time.
What is access control?
Access control is the process of regulating who has access to a building or facility. One of the key components of access control systems is the id medium and technology that is used to grant or deny access. In this post, we will take an inside look at some of the most used technologies in access control systems from SimonsVoss, including locking cylinders, smart handles, smart relay readers, transponders, and MIFARE cards.
Technology
The locking cylinder
Traditional
A traditional locking cylinder is a mechanism that is used to lock and unlock a door, such as the doors of our homes. It is typically located in the doorknob or handle and can be operated with a key or a code. Locking cylinders come in a variety of sizes and styles and can be used in both residential and commercial settings. Some locking cylinders are even designed to be rekeyed so that the same key can be used to open multiple doors –while on the surface, this seems like it could be the answer to frustrations, what it actually does is heighten risk and increase vulnerability.
Keyless
The SimonsVoss Digital Locking Cylinder provides service exactly as required at each point throughout the building. The cylinder's intelligent internal components and wide range of different designs, such as those for anti-panic and fire doors, provide precisely matched solutions for virtually any application.
This Digital Locking Cylinder is extremely easy to fit as it can be installed within minutes with no need for any wiring or drilling. Standard button cells reliably ensure up to 80,000 locking operations in an online network.
Smart handles
Smart handles are a newer type of access control technology that allows for keyless entry. Instead of using a key or a code, a smart handle uses a a SmartCard or Transponder to grant access. This type of technology is becoming increasingly popular in commercial buildings, as it eliminates the need for employees to carry around keys or remember codes.
The Smarthandle AX provides a sleek, modern and flexible solution to any situation onsite. The handle can be mounted on the left or right and can be combined with a panic bar. With an exceptionally long battery life for up to 300,000 operations, it is a future-proof investment that forms part of the SimonsVoss promise.
Transponders
A transponder is a small device that typically contains a small chip that stores information, such as a unique identification number – such as the keys in which we open our cars. When the transponder is presented to a reader, the information on the chip is read and used to grant or deny access.
System 3060 from SimonsVoss uses transponders or SmartCards to digital un-lockicylinders, SmartHandles and SmartRelays. You can manage an incredible 64,000 locking devices with your transponder and open doors and gates up to 400,000 times with a single battery.
MIFARE cards
MIFARE cards use radio frequency identification (RFID) technology to grant access. The cards contain a small chip that stores information, such as a unique identification number. When the card is presented to a reader, the information on the chip is read and used to grant or deny access. MIFARE cards are commonly used in commercial buildings and are known for their prominent level of security.
Why choose access control from SimonsVoss?
Flexibility: SimonsVoss systems are highly flexible and can be adapted to meet the specific needs of any building or facility. This means that the systems can be customised to suit the size of the building, the number of employees or visitors, and the level of security required.
Scalability: SimonsVoss systems are easily scalable, which means that they can be expanded as the needs of the building or facility change. For example, if the number of employees or visitors increases, the system can be easily expanded to accommodate the additional users.
Security: We are known for our high level of security. The systems use advanced encryption and authentication methods to ensure that only authorised individuals have access to the building or facility.
Ease of use: Our systems are designed for humans and are easy to use. The systems are intuitive and user-friendly, which means that employees and visitors can quickly and easily gain access to the building or facility.
Integration: SimonsVoss systems can be easily integrated with other systems, such as security cameras, alarms, and fire alarms. This allows for a seamless and comprehensive security solution.
Remote management: All our systems can be managed remotely, which means that building managers or security personnel can monitor and control the system from anywhere.
How to choose the right access control system
Access control is a vital component of modern security systems. Choosing the right access control system is crucial to ensure that you have the right level of security and convenience for your organisation.
Determine your access control needs: Before choosing an access control system, it's important to determine your organisation's access control needs. Consider the size of your facility, the number of people that need access, the type of environment (indoor or outdoor), and the level of security required.
Consider the type of id medium: There are several types of access control sensors, including card readers, biometric devices (fingerprint, iris, face recognition), and keypads. Choose the type of sensor that best fits your organisation's needs and budget.
Integration with existing systems: Consider if you want your access control system to integrate with your existing security systems, such as video surveillance or fire alarm systems. Integration can help to provide a more comprehensive security solution and can be more cost-effective.
Scalability: Choose an access control system that can easily expand as your organisation grows. Some systems are designed to handle hundreds of users, while others are limited to a few dozen. Make sure that the system you choose can be easily expanded as needed.
Budget: The cost of access control systems varies widely, from a few hundred pounds for a basic system to several thousandpounds for a more advanced system. Determine your budget and choose a system that fits within your budget while still providing the necessary level of security.
Technical support: Choose a system that has reliable technical support, in case you need help setting it up, troubleshooting, or updating the system.
With the rise of digital technologies, access control systems have become more secure, convenient, and efficient and the integration of access control technology with other security systems, such as video surveillance and fire alarms, provides a more comprehensive security solution.
The access control systems from SimonsVoss provide you with technology that has improved security, increased efficiency, and provides you with great control over your access. Our team of UK experts have the knowledge and experience to advise you on the right solution.