 Locking a co-working space securely
What actually is a co-working space?
Coworking spaces are the optimal solution to providing flexible offices. Both freelancers and employees are not necessarily tied to one place to do office work, especially these days. The possibility of renting a flexible workspace is very popular, particularly in the creative industry or among start-ups and company founders.
Social interaction in co-working spaces, including cross-company spaces, is another reason that many users rent an office space. This also relates to events and functions that can be held on the premises. Valuable business relationships are often created by the various companies and people visiting the co-working space.
Spaces often have all the furnishings and facilities users could ever wish for, such as desks, a meeting room, seminar rooms, a kitchen or a lounge area. Moreover, the technical infrastructure in co-working spaces offers a considerable advantage, especially for newly founded companies: Office equipment, Internet or hardware do not need to be purchased immediately; they are rented directly as part of the package.
Different co-working space usage types
Coworking can be limited to a single company with different departments or employees using available room capacity at different times. "Own offices" do not exist in such cases or only in very small numbers for employees who work at the location on a regular basis.
(New) office buildings may also be designed as a co-working space from the outset. In this case, numerous different workspaces are created on a larger scale and divided in such a way that several different users (usually tenants) can conduct their business in the building temporarily or for the long term. This configuration is more common than a grouping of young companies, sometimes in related lines of business.
Both types generally share the availability of a shared infrastructure, ranging from a reception, underground parking spaces and the lounge area on the roof terrace through to a childcare facility, catering from a third party provider and a fitness and wellness area.
Challenges in organisation
The great flexibility also poses a great challenge for operators since there are no fixed working hours in the co-working space and people come and go on a frequent basis. This means managing access for employees, freelancers and start-ups can quickly become a problem if there is no well-functioning locking system.
This is why it is important to create a concept that guarantees effective organisation and access to a wide range of rooms and facilities for different people. Here, the maxim is ensure minimum administration with maximum security.
An intelligent access system that allows any desired scaling of rooms and persons is essential to follow this maxim.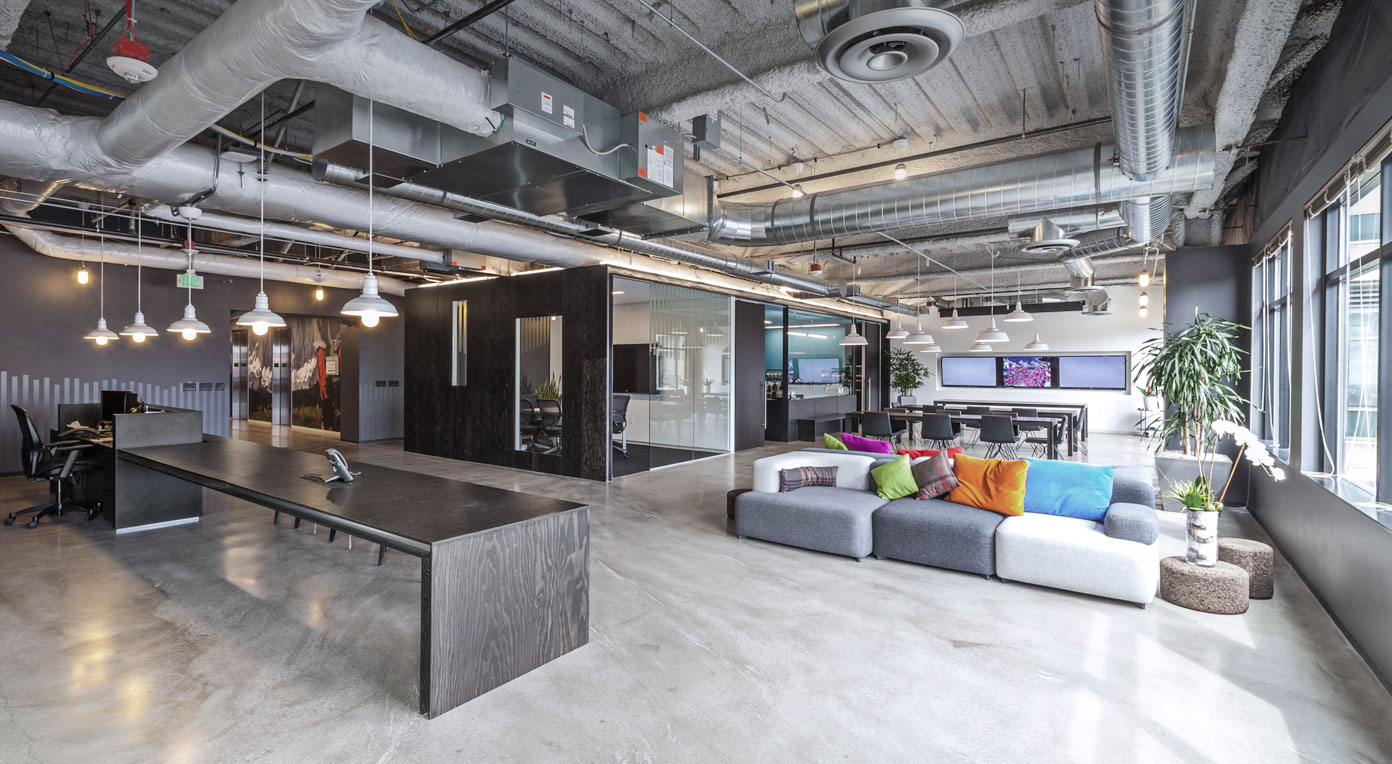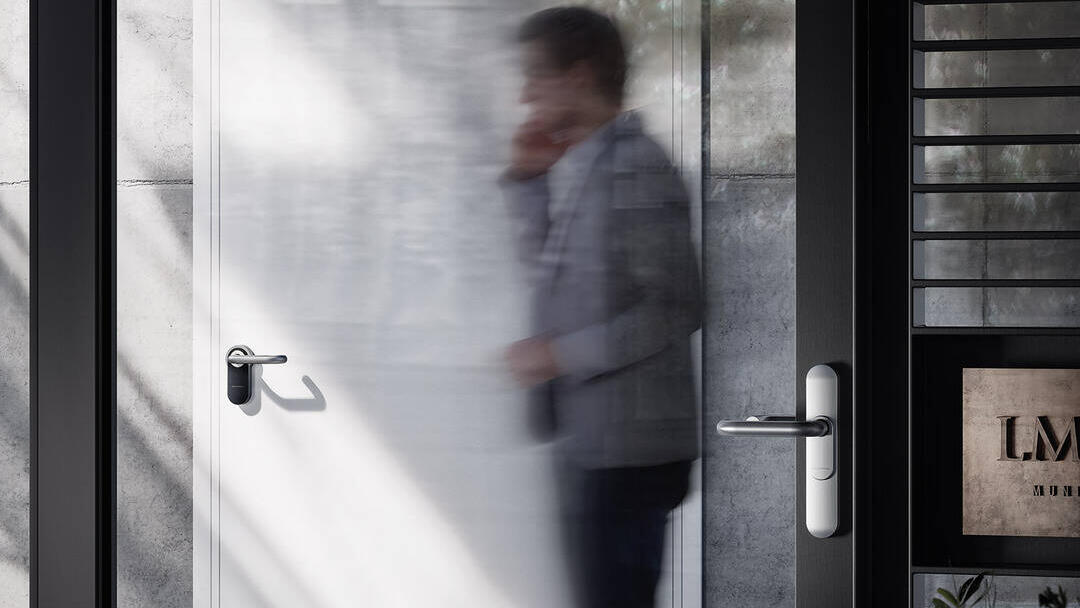 Problems with "conventional" keys
The conventional approach to organisation would be to install a locking system with mechanical locking cylinders. In this case, the operator has a master key which can open all locking cylinders in the building. Co-working space users receive copies of the keys they need for the areas they use. Handover of the required keys must be logged in this case so that all keys are returned in full when the contract comes to an end.
This approach reaches its limits when there is a large number of keys and users change frequently: Are there enough keys available for all authorised persons? What happens when new users also need a key? How do you expand the office space immediately when more space is needed?
The administrative burden for the operator increases with each additional contract. Such unresolved issues can also be a reason why tenants rule out a particular facility when it comes to deciding on a suitable co-working space. After all, time and effort should be minimised for both parties.
The security risk is also high. If a key is lost, locks and keys all need to be replaced and re-issued in a worst case scenario. Moreover, the space cannot operate as normal while the system is being replaced and revenue is reduced during this time.
The better alternative: a digital locking system
As you have just seen, a mechanical system is too unsafe in co-working spaces and can quickly become very expensive. The solution is an intelligent, digital access system. This greatly simplifies management of keys, increases security and conveniently resolves the administration of rooms.
Mechanical keys are replaced by modern identification media (transponders or smart cards). Doors can now be opened using RFID technology without keys and based on specific user requirements. The number of employees therefore no longer plays a role. New persons who need to be granted access to the area in question can also be authorised within seconds. What happens if an employee should no longer be granted access or a transponder has been lost? No problem: with just a few clicks, the credential is deactivated and security is restored in the building.
It also takes just a few seconds when you need to do the opposite and unlock spaces. It is thus quick and easy to provide flexible access to additional space and facilities, even on a temporary basis. Nothing stands in the way of spontaneous meetings in the newly hired meeting room, for example.
The digital locking system also ensures less work for operators, not only when issuing keys, but also because they have an overview of the entire building. Thanks to door monitoring, the system provides up-to-date status reports at all times. The question of who has access at different times can be clarified immediately. The software also alerts the user to any current security risks, such as open doors.
Furthermore, an intelligent co-working space access system offers the option of tracking. This means that it is possible to identify who has entered the building or rooms at any time.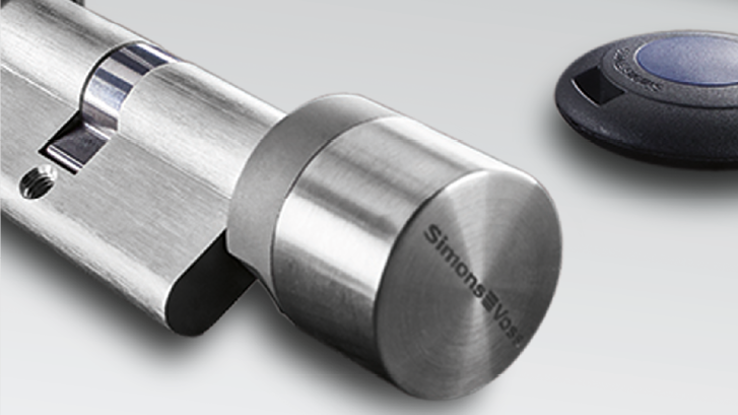 Not only buildings are secured
Barriers or doors can also be easily connected to intelligent access control. The transponder or smart card thus also enables access to approved parking spaces or parking structures.
However, the identification medium not only provides access to parking facilities and spaces. The system can also be used to secure building facilities and equipment. A flexible approach can be configured for unlocking of sensitive areas or technical equipment. Digital half cylinders provide convenient locking and unlocking of electrical enclosures and server cabinets.
Your advantages in brief
Goodbye to fixed office hours: no more restrictions on opening hours thanks to customisable access windows
Rapid staff turnover – no problem: unlimited flexibility with frequent changes for different groups of people
Minimal organisational effort: simple issuing and collecting of electronic keys
Improved key management: access authorisations granted with just a few clicks, including temporary authorisation
Maximum security: full traceability and no security risk in the event of lost keys
Cost and time savings: no more tedious copying of (replacement) keys; identification media quickly provided instead
Quickly installed: replace existing cylinders wirelessly without drilling
Convenient operation: various software versions for all requirements with upgrade option
High-end co-working space thanks to professional access control
As an expert in digital locking technology, SimonsVoss has been synonymous with high-grade security for over 20 years. Locking components by the digital locking technology pioneer can be easily combined with one another. SimonsVoss systems offer complete future-proof investment as each locking system can be extended with new software and new components at an affordable price, even many years later.
Do you have any questions? Contact us!