Fire protection
Fire protection encompasses all measures for the prevention, generation and spread of fires. "Preventive fire protection" or "fire prevention" is often referred to in the same context when it comes to protecting people and animals and introducing measures for defensive fire protection (fire extinguishing).
Fire protection affects several levels of daily life, resulting in a variety of requirements and regulations. An example of this are various building codes, fire brigade laws, ordinances and guidelines within Germany.
Types of fire protection
Preventive fire protection basically consists of three areas: structural fire protection, organisational fire protection and plant-specific fire protection.
Structural fire protection
Structural fire protection concerns a wide range of measures, such as Building materials and components that are regulated by DIN regulations. Structural fire protection also regulates escape route planning or extinguishing systems in a building complex. In addition, so-called fire protection reports can be requested in Germany, which must be submitted to the building inspectorate and checked.
Structural fire protection can be categorised as follows:
Fire behaviour of building materials and materials
Escape route concepts
Fighting active fires using (automated) extinguishing equipment
Fire resistance and heat resistance of individual components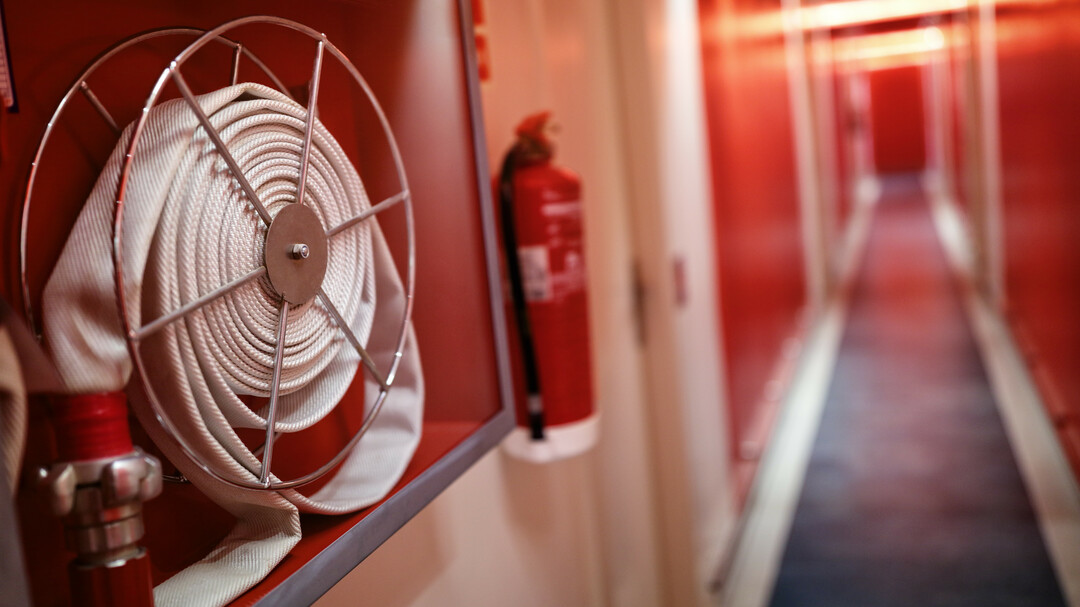 Fire protection equipment continues to include fire protection equipment. These special measures include fire doors, fire service key depots, fire service key safes, fire alarm systems, fire alarm centres and fire protection walls.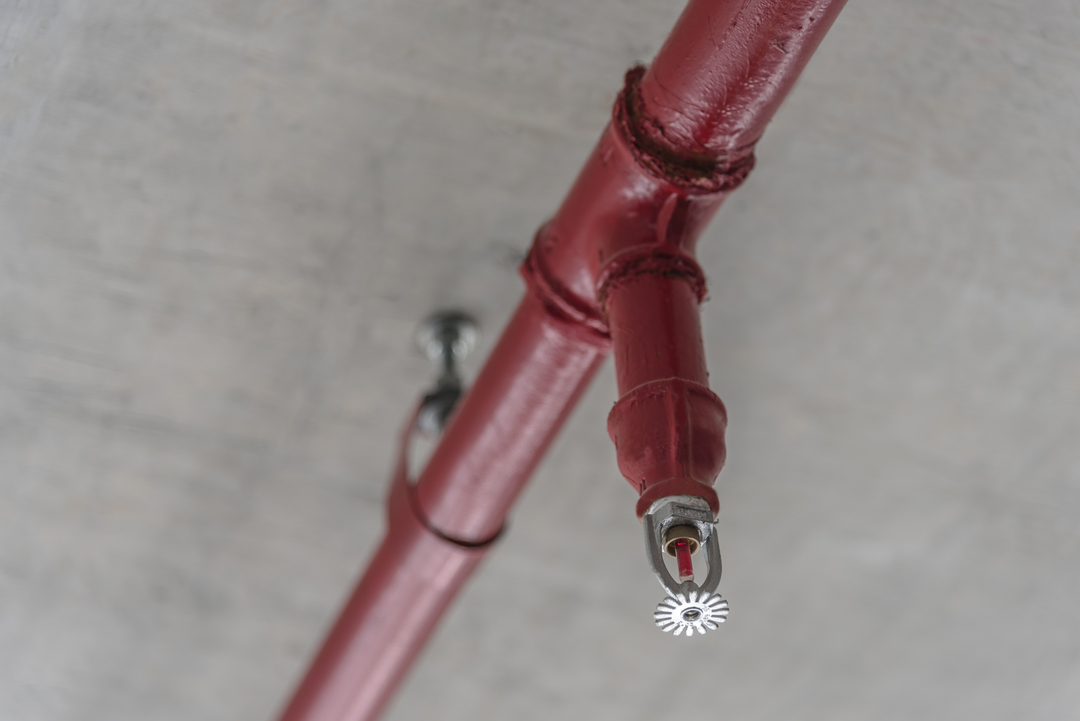 System-related fire protection
System fire protection includes all technical equipment and systems for the optimisation of fire protection itself. In turn, plant-specific fire protection can be divided into two areas:
Fire protection of technical building equipment:
Concerns the protection of high-quality technical systems against fires or damage by means of structural and plant-technical fire protection measures. These include fire dampers, shafts or air sampling smoke detection systems, for example.
Fire protection using technical equipment and systems:
Systems that serve to prevent or actively fight fire fall under the scope of the technical fire protection equipment. These can include acoustic/optical alarms, mechanical smoke extraction, sprinkler systems or fire detectors
Organisational fire protection
All organizational measures taken by a company are the responsibility of organisational fire protection. This includes the planning of rescue, alarm and escape plans, the organisation of (small) fire extinguishers, information of employees on fire protection and, if necessary, the appointment of a fire protection officer.
Individual fire protection measures
Fire doors
The popular term "fire door" is used in the technical language under fire protection closure. The main task is to protect openings in walls against fire penetration. In addition to fire doors or fire doors, this also includes fire protection doors, fire protection flaps or fire protection shutters.
Fire doors are especially required in openings of fire walls or partitions of usage units. The state building code or special building regulations also stipulate the necessity of fire doors for corridors over 30 m in length.
Types of fire doors
Fire doors can be divided into different categories. The individual fire resistance classes are marked with a "T". This indicates the length of time the fire door must withstand before the fire passes through. Even after this, it must still be possible to open the fire protection door.
The following fire protection classes exist, which are based on the requirements of the building:
T30: "fire-retardant doors"
T60: "highly fire-retardant doors"
T90: "fire resistant doors"
Operation of fire doors
Fire doors must be self-closing! Keeping them open with aids (e.g. wedges) is strictly prohibited and even punishable in Germany. Fire doors may only be kept open by approved hold-open systems, which can be controlled by a fire detector and automatically closed in the event of a fire.
Fire protection doors do not necessarily have to be smoke-proof. Conversely, a smoke protection door is not necessarily a fire door. Requirements for smoke protection doors are regulated in DIN 18095. In the event of an acute fire, this type of door should enable rescue of people without respiratory masks and must also always be self-closing.
Escape routes and emergency exits
Escape routes are ways in which people can leave buildings and systems in a dangerous situation to get to safety. This applies to stairs, corridors and ways outside.
Escape routes in particular are access routes for rescue and emergency services such as the fire brigade. These routes are primarily used for rescue and rescue of injured persons and for fighting fires in order to ensure fire-fighting work.
In the normal building regulations, the two terms are summarised under "Escape route", but this is handled separately in special building law
Escape route requirements
The requirements for escape routes are clearly regulated in the Model Building Ordinance. For example, there must be two independent escape routes for each unit of use with recreation rooms, which lead to a safe outdoor space. This means that if one path fails, the second can be used as an alternative. Escape routes within a storey can, however, lead over the same necessary corridor. In the case of building complexes with several floors, it must be ensured that an escape route can be reached via the stairs. The other escape route can be used by the fire department's rescue equipment.
In principle, the following requirements must be met:
Doors within the escape route must be able to be opened within one second with a hand movement without the use of a key
Escape doors should be opened outwards
Escape and escape routes must be easily accessible and not blocked
Technical requirements for rescue routes
In addition to the above criteria, care must also be taken when planning escape routes to use doors with the appropriate equipment. These include panic door locks with horizontal push bar, which can be actuated in an emergency situation. We also recommend an escape route system consisting of escape doors with integrated panic locks in order to meet the required security standards.
Greater security: Rescue routes with digital access system
As described above, there are stringent requirements when it comes to safe access to rescue routes. Firstly, people must be able to leave the building easily in the event of danger. On the other hand, the fire brigade requires unhindered access to all doors in order to be able to freely advance to the source of danger.
To meet these requirements, a conventional (mechanical) locking system is no longer sufficient. The solution: An intelligent digital locking system. Ideally from experts and pioneers of digital locking technology – from SimonsVoss!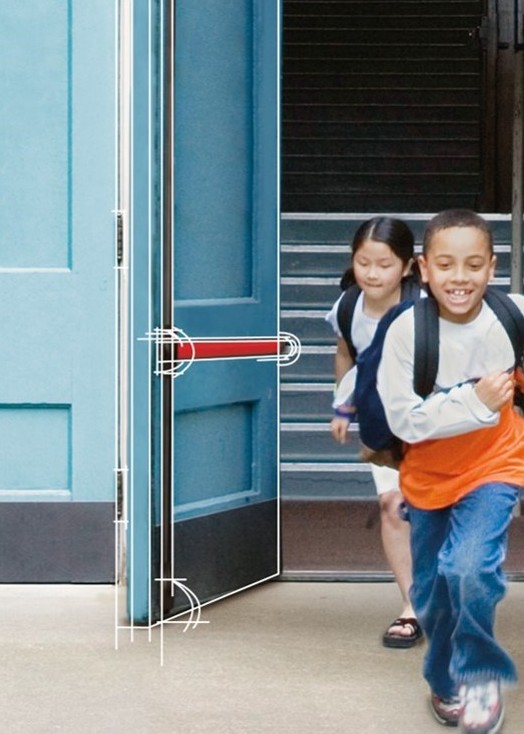 Advantages of a digital locking system
SimonsVoss digital locking systems not only guarantee optimum security of your building against unauthorised access. The intelligent locking systems harmonise perfectly with escape route components. Specially designed anti-panic cylinders have been specially developed for use in antipanic locks which are used in escape and rescue routes, among other things.
As previously described, panic locks use special mechanisms so that people and emergency services can pass in the event of an emergency. If there is no panic situation, the lock is locked or unlocked by the freely rotating panic cylinder on both sides. The lock can be opened or closed conveniently and contactlessly using an authorised access medium (transponder or smart card). As soon as a dangerous situation arises, the digital online locking system opens all doors in seconds so that they can be passed through without an access medium.
But digital access systems as offline versions also provide fire brigades with unrestricted access to all areas of the building. In this case, a special transponder for the fire department is stored at a known location in the building (usually near fire alarm systems or fire alarm centres). Alternatively, the transponder can also be placed in a fire service key depot outside. In the event of a fire, the fire brigade's emergency services remove the transponder and can thus open all doors in order to penetrate the source of the fire.
Effective fire protection and secure escape routes thanks to digital locking systems
Thanks to SimonsVoss digital access systems, you are optimally equipped in the event of danger. The expert and pioneer of digital locking systems is your contact partner for building security. SimonsVoss systems are especially designed to guarantee escape routes, equipment for fire doors and the safety of people. Constant protection of people and the fastest possible access to possible sources of fire increase the security level of your building many times over.
SimonsVoss system owners also benefit from convenient and individual access authorisations, uncomplicated and inexpensive handling in the event of loss of identification media, an alarm in the event of unauthorised access or attempted manipulation, as well as an optional link to time recording systems.
Enter the KEYLESS World now and protect people and buildings comfortably and sustainably
with German-made quality!