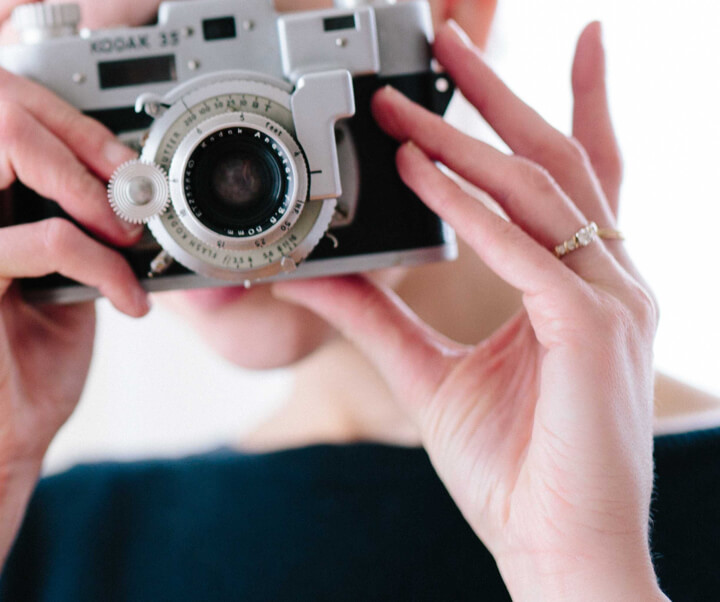 The mechanical key has had its day!
This article appeared in German building fittings magazine bauelemente bau Issue 11/19
The mechanical key has had its day!
SimonsVoss Technologies GmbH has been pursuing its vision for over 20 years. Based in Unterföhring near Munich, the company is primarily known for complex digital locking systems that are chiefly used in large properties. Alongside customers in the public sector, healthcare and finance, other customers who rely on SimonsVoss technology include a large number of DAX companies. With MobileKey, the company is also able to offer a simple-to-install, easily programmable solution suitable for smaller properties such as commercial establishments, detached houses, holiday homes, doctors' practices, architectural offices and apartment blocks. This makes it easier to enter the world of digital locking technology.
The MobileKey solution is designed for up to a hundred users and twenty locking devices. In addition to electronic cylinders on doors, such cylinders can also be used for barriers or garage and sliding doors. Thanks to the online version of MobileKey, receivers can even be contacted in buildings in different locations.
This means MobileKey can not only be used in small companies, but also in private residences. Instead of the mechanical key commonly used previously, digital transponders, a PIN code keypad or a smartphone are now used to open doors. The digital SmartRelay offers the right solution as an electronic key switch for locking devices without cylinders, such as electric strikes, motorised locks, garage door or roller shutter drives and other products.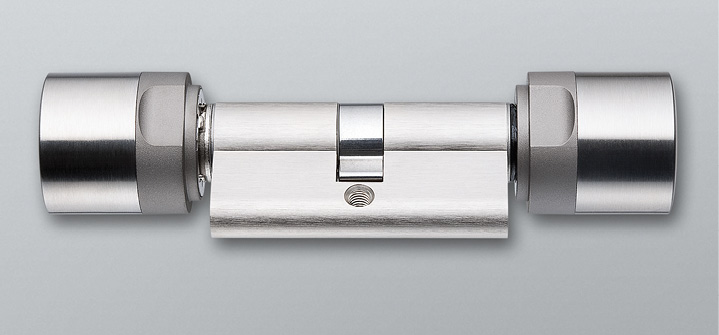 Easy installation and retrofit
Since it is a fully battery-powered solution, installation is extremely easy. There is no need to drill holes or use special tools for original installation on doors or for retrofits. This means that the electronic door cylinders can be installed in minutes. It is also easy to convert to the digital solution without much effort at a later date.
"This enables us to excite great interest in digital locking technology among retailers. Lock and key services who have only worked with mechanical systems to date are also potential customers for SimonsVoss. If they are able to handle the simple entry-level solution well, they will venture to tackle the large solution at a later stage," affirms product manager Tobias Lerzer.
MobileKey provides SimonsVoss in two versions: the offline version is standard, but the online version offers significantly greater convenience. For example, access logs can be read to check who entered the building at particular times and where they entered the building.
Door monitoring is also possible as an option with sensors integrated into the cylinder. The sensors monitor the door status and register each status change. Crucial information is forwarded in real time, indicating whether the door is open or closed, the dead bolt is completely retracted or extended and if the door has been locked once or double-locked or has been open too long. The SmartSurveil software maps these overview and control functions graphically on the PC screen.
With the help of event management, notifications of predefined events or alarms are automatically sent by e-mail or by push message to smartphones.
"Key4Friends" can be used to issue temporary access authorisations to grant tradesmen or neighbours one-time access, for example. An electronic key is sent to the smartphone by e-mail. The Key4Friends is valid for up to six months and can be extended as often as you wish. Remote opening with a mobile phone is also possible in the online version.
If a transponder is lost, it can be blocked within a few seconds to prevent misuse. It only takes a few minutes to configure a new transponder.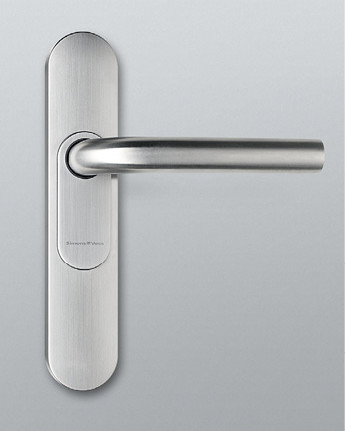 Web app for configuration
The company offers an intuitive web app on the microsite app.my-mobilekey. com to configure and manage MobileKey locking systems. Oliver Brandmeier, Head of Product Management:
"This app can be accessed on all internet-ready devices, such as PCs, tablets, Mac computers or smartphones. It takes just a few clicks to define which people have particular access rights. These rights can be changed, limited in time or extended whenever you wish."
The data from the web app are transmitted to the SimonsVoss server, where they are added as a locking plan and sent back to the web app. In the standard version, the data must then be transferred to transponders and locking components using the programming device consisting of a USB flash memory. The locking system is then operational.
The online version of MobileKey is significantly more convenient as it is connected directly to the server via a SmartBridge. System equipment and authorisation changes will be implemented virtually in real time as a result.
These servers are own servers located in a data centre that ensures high availability. Moreover, specialists test system security against external attacks on a regular basis.
"MobileKey finds high acceptance among our customers as it only involves brief instruction of a mere 20 minutes. We launched the system in early 2016 and in the first year we managed
to install 1,000 locking systems. Today, there are already thousands in use in different applications," affirms Lerzer.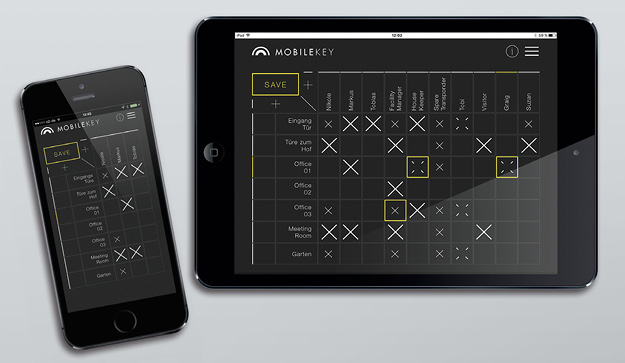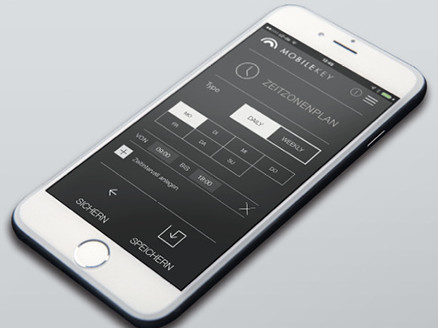 The big brother: the time-tested System 3060
With System 3060, SimonsVoss offers a digital locking and access control system for large buildings with a great number of users and complex access authorisations. In addition to door cylinders, the system can also integrate everything from entry barriers, doors and gates through to lifts, turnstiles and cabinets. This ensures a building can be completely secured all around. However, this only requires a manageable number of components: a digital locking cylinder, a digital locking relay, the digital door fittings SmartHandle or SmartHandle AX, digital cabinet locks and padlocks.
The digital cylinder contains the entire locking and control intelligence. Available in a wide range of different designs, it can provide an extensive variety of locking, monitoring, logging and control functions. It can also be optionally fitted with sensors for cable-free door monitoring (online only). The SmartHandle and SmartHandle AX products for interior doors also offer door monitoring.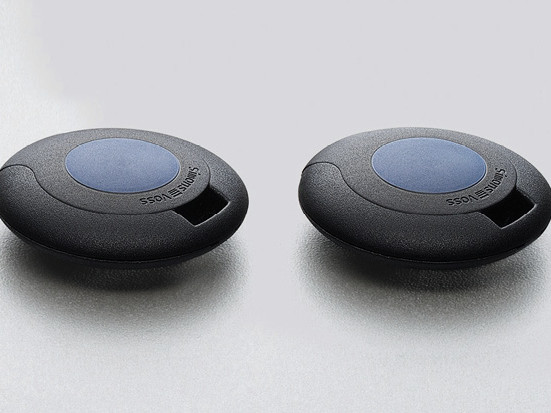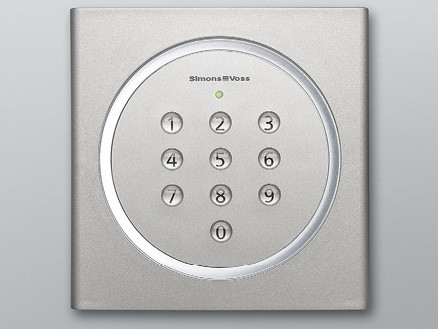 Adaptable solution
A modular design is a prerequisite for customising locking systems to individual needs. Such a design also offers the advantage of allowing the system to be adapted to changes at any time. These may be when the building is extended, new locking devices are added or additional control functions or conversion to the online version are desired. It is quick and cost-effective to adapt thanks to the cable-free, battery-powered technology. This is ensured with full upward and downward compatibility of the products and systems.
When it comes to identification, customers can choose between active and passive technology. They can use either "active" transponders or the "passive" smart card. The battery-operated transponder, which functions as a wireless key, certainly offers a whole range of additional advantages in terms of security and comfort.
It has a greater range, a much longer service life and more memory for all types of data. The robust casing protects the reading electronics and provides effective protection against vandalism and manipulation. The transponder activates door release at the push of a button. Transponders are battery-powered since power is required for active data transmission. This also offers the advantage that battery life is increased in cylinders and hardware, lasting up to 300,000 cycles.
Barriers, gates, lifts and similar structures rarely have locking cylinders. A SmartRelay that functions as an access control reader is used to ensure that access can also be granted and controlled electronically. It not only switches lights, gates, barriers and machines, but also transmits data from identification media to third-party systems – for example to canteen billing, facility management or time-and-attendance systems.
Central management
SimonsVoss offers the LSM locking system management software for setting up and operating the digital locking system. The locking systems in System 3060 can be operated offline, online or in a virtually network as required. Online operation brings the advantage that all functions and changes to access rights can be carried out centrally via LSM and in real time via the network. This eliminates time-consuming on-site programming of all locking devices.
In a virtual network locking system, the SmartRelay takes over the role of a central gateway. This means it transmits new or modified access rights to identification media, ensuring that every user has up-to-minute access rights.
Now for interior doors too
SmartHandle AX is still quite new in the range for use in Locking System 3060. This electronic fitting for interior doors can be fastened to the existing escutcheon hole pattern (DIN 18251) with no need to drill holes. Oliver Brandmeier: "Once more, we have attached great importance to good design and high-quality materials such as stainless steel for the new product. However, quality is also evident in the detail. High-quality springs are used to ensure that the door handle remains perfectly horizontal, even after many opening cycles. A modular structure guarantees a wide variety of designs and variants. Operation via Bluetooth or mobile phone not only provides the expected level of security, but also great convenience."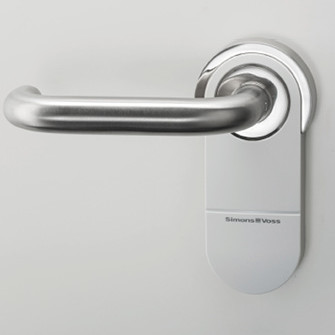 The pioneer in digital locking technology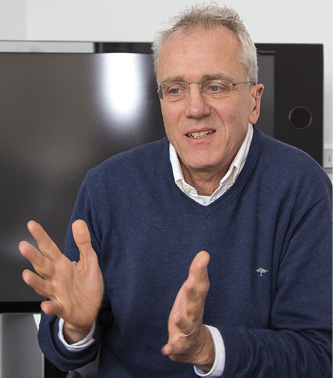 SimonsVoss can claim to be the first company to launch a digital, battery-operated locking technology onto the market. The original idea of company founder Ludger Voss was to integrate electronic access control into a standard format. Voss initially focussed on standard lock cases. It quickly became clear that there is no such thing in buildings. A great number of different locks are used instead with left- and right-handed opening, different backsets and special applications such as panic doors.
"You shouldn't let yourself get carried away with your first idea because you may think of something better later down the road." Heeding to his own advice, Voss used his experience in the electronics industry to integrate digital locking technology into a compact door thumb-turn. This was made possible by an extremely small microchip developed in-house, which also impresses due to its low energy consumption.
Voss initially focused on consumer customers as a potential target group. However, it soon became clear that high demand could not be expected given the price sensitivity of this planned target group. "This was the reason why we first concentrated sales on properties where we could expect higher order quantities," states Voss.
SimonsVoss obviously bet on the right horse. Over the last 20 years, more than 1.2 million electronic locking devices have been installed in over 12,000 projects. Today, the company employs a workforce of 350 and has subsidiaries in Europe, Asia and the Middle East. Products are supplied through
2,000 specialist retail partners worldwide, 500 of which are in Germany alone. 80 sales representatives ensure attentive support.
SimonsVoss Technologies GmbH has been part of the US Allegion Group since September 2015. Listed on the New York Stock Exchange, the company offers mechanical and electronic security products for doors and entrances to buildings. In addition to the German companies SimonsVoss® and Interflex®, the group also includes brands such as Cisa®, Lcn®, Schlage® and Von Duprin®.
With a total of 10,000 employees, Allegion achieves sales of 2.7 billion US dollars and sells its products in some 130 countries worldwide.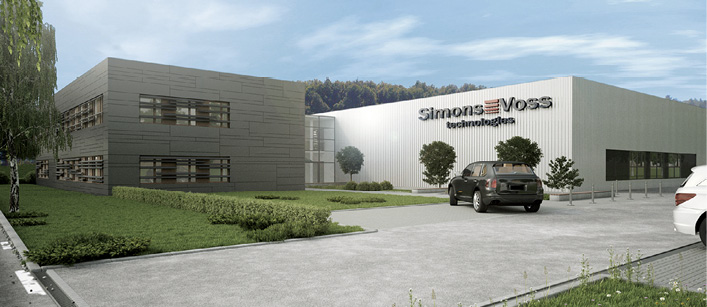 "We digitalise the locking system market"
Mechanical locking systems in apartment buildings are only secure if residents handle keys with care. Owners of residential complexes regularly complain about problems with occupants and high costs due to key loss. Key loss also presents a security risk. That is why such buildings are increasingly changing over to digital locking technology. Bernhard Sommer, Managing Director of SimonsVoss Technologies GmbH and Interflex Datensysteme GmbH, talked to us about this switch.
The number of new apartment buildings and upgrades in existing buildings is increasing continuously, especially in cities. Investors in such buildings seek to optimise costs as far as possible. Does this also apply to security technology?
All indications show that mechanical locking system may seem to be a more cost-effective solution than digital systems initially but can prove to be the more expensive solution in the long run.
How much more expensive is a digital locking system compared to a mechanical solution?
For the end customer, we're talking about around 300 to 400 euros per door, including access media and other items. With an average useful life of fifteen years, this corresponds to an additional cost of 20 euros per year for a digitised door solution. What no longer apply are the relatively high costs incurred if a key is lost – for replacing cylinders, copying keys and similar.
How long does it take for the higher acquisition costs to pay off?
On average within three to five years. Owners, administrators and residents of units in residential complexes have often been sceptical of electronic access management in the past. This attitude is quickly disappearing. Procedures for electronic reading of electricity, water or energy consumption have now become established and people are familiar with them. Many investors now provide their buyers or tenants with simple operating instructions. This is how home ventilation can be managed, for example. Security technology can be handled in the same way.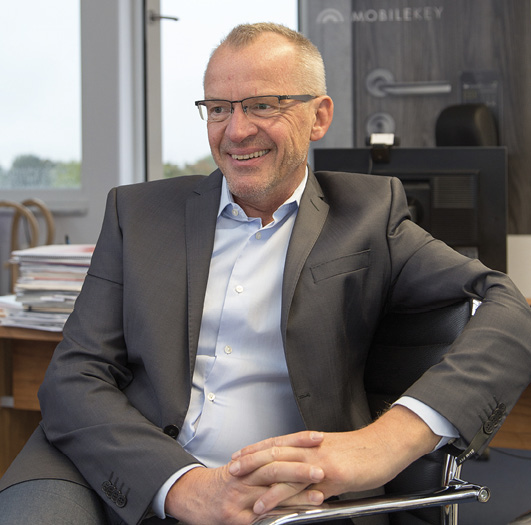 The mechanical central locking system has been an undisputed leader in apartment buildings for decades. Why is this changing right now?
Because cost pressure for upgrade and maintenance measures in existing buildings is constantly increasing and this is where potential savings are sought. In the case of new buildings, convenience and the security concept now come to the fore alongside long-term costs. Digital locking technology such as SimonsVoss System 3060 and its components form an excellent solution for all these uses.
Where exactly is the savings potential regarding security technology here?
The German insurance industry's loss prevention organisation has calculated that the approximately 800,000 keys lost every year cause losses of almost 100 million euros (source: immobilienscout24.de). Depending on the size of the building and the specifics of the mechanical locking system, the loss of a master key with all replacement costs can quickly amount to a five-digit sum. Replacing a lost digital locking medium (card, transponder) takes three clicks and costs a few euros and the system is then immediately secure again after deleting the old locking authorisation.
Are there other advantages of digital systems?
Three are particularly significant: the acquisition costs per locking medium, irrespective of their importance in the hierarchy, are far lower for digital systems and it is easier to handle management of a digital locking system. However, the most significant added advantage of digital systems is their expansion potential. Software components such as SmartSurveil, for example, can be used to monitor door statuses on a visual display. Controllable via smartphone, convenient supplementary functions are no problem with SimonsVoss digital locking technology.
Maintenance and repair work is regularly carried out in large residential complexes. How do you integrate these processes?
With temporary locking authorisations for tradesmen. Unlike a mechanical key that you may or may not have, transponders or cards can be programmed precisely for specific areas of buildings and limited time slots. The locking media will not work outside the configured area or time period. The management software can be used to track when and where a transponder was used, depending on the specific features.
I assume that your systems will primarily be used in new buildings.
I wouldn't say so. 80 percent of the main projects we carry out are in existing buildings since they are becoming increasingly digitalised. New builds make up between ten and twenty percent of digital locking systems. However, we can detect a clear trend towards a steadily increasing share here. This is because people are becoming increasingly aware of digital solutions. Arguments such as cost savings on operation and the uncertainty associated with lost keys in conventional systems are convincing.
What untapped potential do you think existing buildings have?
Mechanical solutions still account for around 90 percent of locking systems in existing housing stock. The opportunities for successful marketing of digital locking technology are consequently considerable in this sector. In addition to developing user-oriented innovations, our task is to communicate the clear advantages of digital locking systems to the right target groups. We can show numerous reference projects where the changeover from a mechanical to an electronic system has been successfully completed.
Are there special retrofit solutions for existing buildings?
One practical starting point is apartment buildings where the building entrance door features an electric door strike. Such doors can be retrofitted with the SimonsVoss digital SmartRelay 2 key switch. SmartRelay 2 must be installed indoors when transponders are used since this where the electronics are also located (reader and opening electronics integrated into one housing).
Building management assigns the individual locking authorisations. In this type of configuration, users can continue to open or lock their individual apartment entrance doors as usual with mechanical keys. However, they also have the option of replacing this mechanical cylinder with the digital double thumb-turn cylinder from SimonsVoss System 3060 and have locking authorisations programmed on the building entrance door and apartment entrance door. It couldn't be more convenient.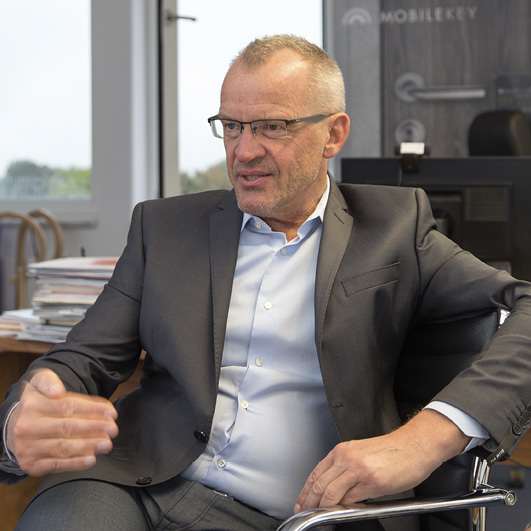 And if the card or transponder is lost, you don't need retrofit or modify anything either, do you?
If an apartment owner loses their card or transponder, there is no need to replace expensive mechanical keys or cylinders. The property manager creates, i.e. programs, a replacement transponder. As soon as this transponder is used in the corresponding locking device for the first time, the access authorisation automatically expires in the lost transponder and no-one can use it any more. This ensures immediate security at the main entrance door.
How secure are digital locking systems against tampering?
There are three security features. First of all, mechanical protection. We offer the same level of protection as mechanical solutions here and can also offer VdS-certified variants. In electronics, we can also meet the strictest security requirements required by banks with a "secure element" and end-to-end encryption. We have external professionals check compliance on a regular basis. Last but not least, the software used meets the requirements specified in the IT guidelines and the General Data Protection Regulation.
Digital locking systems are still more common in large properties. How long do you think it will take for these to be increasingly used in smaller residential properties or upscale residential buildings?
That's a good question. It took fifteen years to establish digital technology in large buildings. However, end consumers, retailers and trade professionals are now much more receptive to digital solutions. As a result, I am pretty confident that it will not take another fifteen years.
Doesn't the small scale business require an adapted technical solution?
We have been able to offer this solution for over two years now. In MobileKey, we have a cloud-based locking system for a maximum of 20 doors and 100 users which can be installed in doctors' practices, architectural offices, shops, apartment blocks or high-end detached houses. During development, the aim was to offer the simplest possible solution, making it as easy as possible for specialist trade to make a start in digital locking technology.
You are also Managing Director of Stuttgart-based Interflex Datensysteme GmbH, a SimonsVoss subsidiary specialising in software solutions for access control, visitor management, time-and-attendance and workforce management. In what ways do the companies work together?
Both companies continue to advance their business independently from one another, focussing on their specialisations. At SimonsVoss, we want to replace mechanical solutions with digital solutions. Interflex primarily works with access control, time and attendance, time management, parking space management and similar with interfaces to SAP and ERP systems. However, we do indeed see areas of cooperation because we share a large number of customers. In individual cases, it thus makes sense that we combine the two areas of specialisation, thus creating added value for the customer. Because it is not the customer who should be coordinating interfaces.
SimonsVoss has been part of Allegion™, the global provider of access control systems with various brands, since September 2015. What impact does this have on business operations?
It was clear from the outset that SimonsVoss would continue to operate independently on the German market with its own headquarters and production. The brand is represented through positive values such as "German-made" and the "inventor of the digital locking cylinder". What makes us strong is our market strategy, which focuses not only on technology but also sales and marketing. This is also consistently supported by the parent company, because the owners understand the business somewhat. The company's development is being advanced with the investment of several million euros in both new product development and the new building at the production site in Osterfeld, which doubles the plant in size.
What types of cooperation are there within the Allegion group of companies – for example, in the development of new products and technologies?
There is a continuous, intense exchange of ideas and information on technology – regarding basic research, software, IT and cyber security or Bluetooth concepts, for example. As a medium-sized company, we benefit from the size of the parent company. Allegion generates more than a billion US dollars with digital locking technology in the USA alone.
If one of our readers should decide to enter into business with electronic locking systems on the basis of this interview, what kind of support could they expect from your company?
There must be very few specialist retailers left who are not yet active and expert in this segment. We have a broad-based training programme for these retailers and new employees, which our academy in Munich offers. Our trainers and service teams also provide retailers with support and assistance on site. Our employees are involved during assembly, training and programming for the initial project. Getting started also involves a degree of investment for the specialist dealer, but it is worth it. Experience shows that many retailers quickly develop an interest in larger projects due to their success.