 Escape door terminal - Escape door control
In the event of an emergency, all persons in a building must be able to get to safety in a flash and without danger. The challenge is to ensure a way out through escape doors and at the same time deny unwanted visitors access in everyday life. This is the task of an escape door terminal or an escape door control unit.
Why is escape door control necessary?
Within a building there are several potential risk factors and sources of danger for people present. These include, for example: fires, smoke or escaping gas, crowds of people due to a threat or danger are also potential risk factors.
Persons must be able to get out of the danger zone into safety as quickly as possible in an emergency. The door control centre, also known as the escape door terminal or rescue door control unit, ensures safe escape and rescue routes through the building to the assembly point in an emergency.
Strict requirements and regulations are in place to ensure the safety of buildings. The escape door control unit is responsible for monitoring doors during day-to-day operation and opening them to everyone in an emergency. The escape door terminal controls the individual door components for this purpose. The control unit is also responsible for securing and monitoring all opening and closing operations of the door.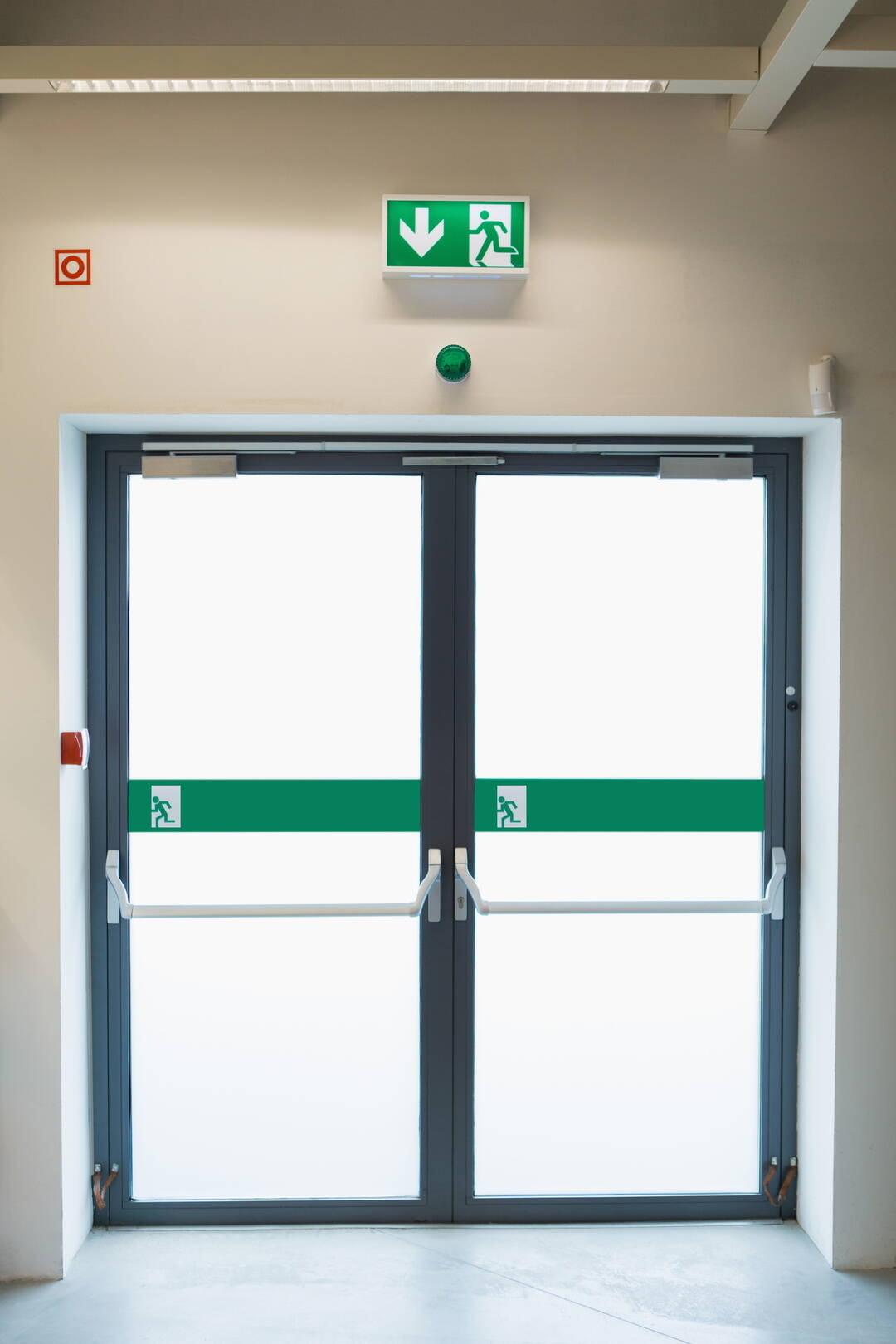 Components of an escape door terminal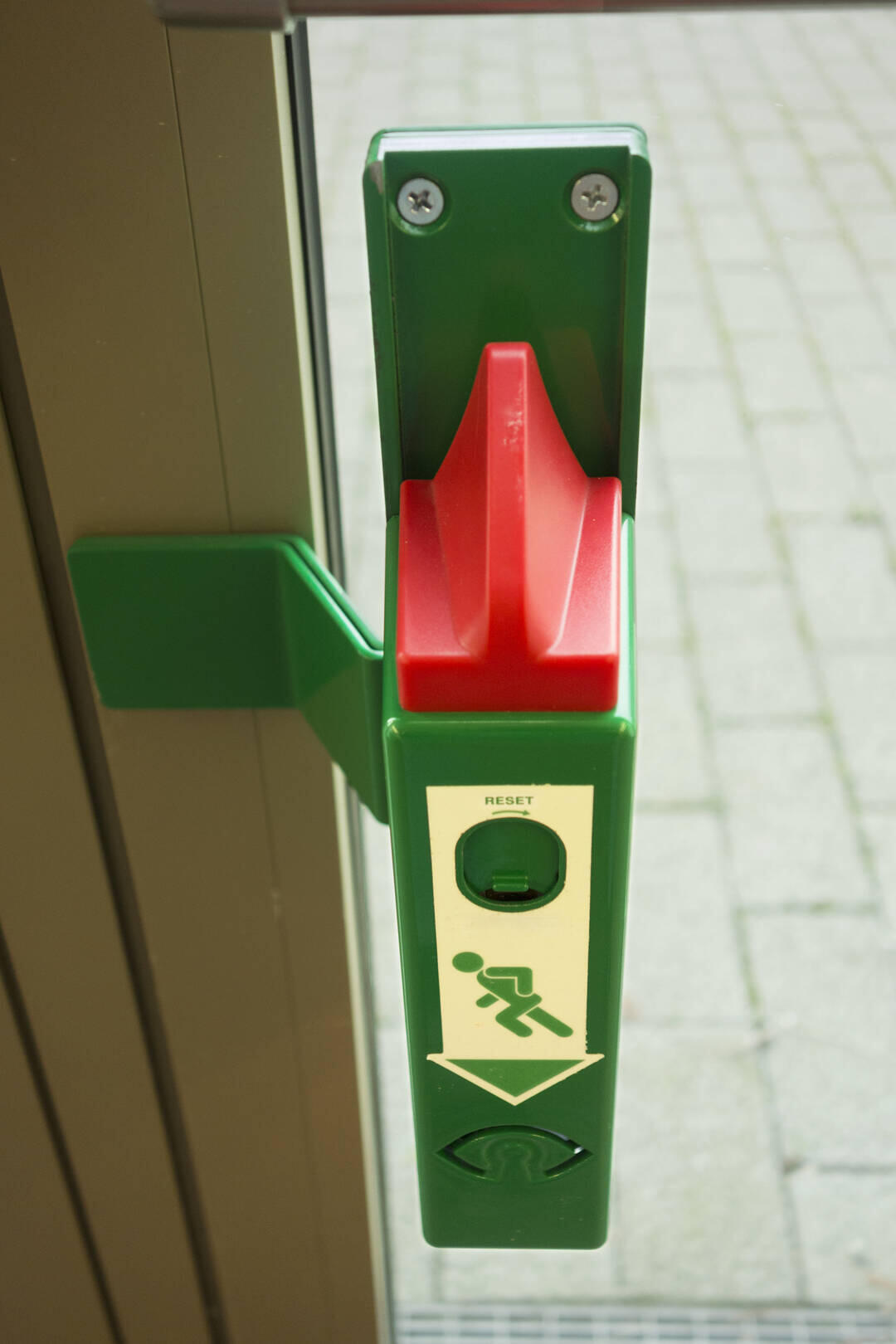 In principle, an escape terminal consists of at least three elements. A locking device, a control panel and a control unit. These components are essential, but can be individually expanded depending on the building complex. Different buildings require a different structure of the individual components. For example, triggers for the escape door opening of kindergartens are attached at the same level as the personnel so that they are not accessible to small children.
Locking device: There are escape door strikes that can be mounted concealed and can also be unlocked under counter-pressure. Magnetic locks for retrofitting are also often used.
Control panel: This is the (often green) element which is mounted directly next to the door. Control panels generally have a key switch, emergency open functions, warning sirens and control LEDs with sabotage monitoring. There is also the option of flush mounting as well as the control of doors in the opposite direction of escape.
Control unit: The control unit is responsible for checking doors and for connection to hazard alarm systems and control panels. Special versions can be selected which enable central release of all doors. Combination devices consisting of control unit and control unit also exist.
Further connections to escape door terminals
In addition to the mandatory elements mentioned above, the terminal can be expanded as required. This means that different types of door contacts enable the evaluation of door positions by the escape door control unit. Other components in the area of fire alarm technology or alarm organisation, such as fire detectors, acoustic and optical alarms, can also be integrated into the system.
Why do escape door controls have to be tested?
Regular checks of escape door controls and the corresponding panic lock or security lock are not only recommended, but are also required by law! The reason for this is clear: All components and elements associated with an escape route must function flawlessly at all times to ensure the safety of persons. If the building owner or operator does not initiate a proper inspection, it endangers the safety or even the life of the people in the building. A defective escape door terminal therefore poses a high risk to the health of other people. But not only personal injury, but also economic damage can occur in the event of a broken escape door control unit. Electric strikes are subject to constant stress, regardless of whether they are operated on a daily basis or due to external factors. A check is therefore absolutely necessary when the system is put into operation and then at regular intervals.
Regular inspection and maintenance of an escape door control unit is indispensable with regard to the risks. But maintenance of the system also makes sense from a financial perspective. The cost of a nonserviced system increases annually. Consequential damage and failures are a cost factor that should not be underestimated.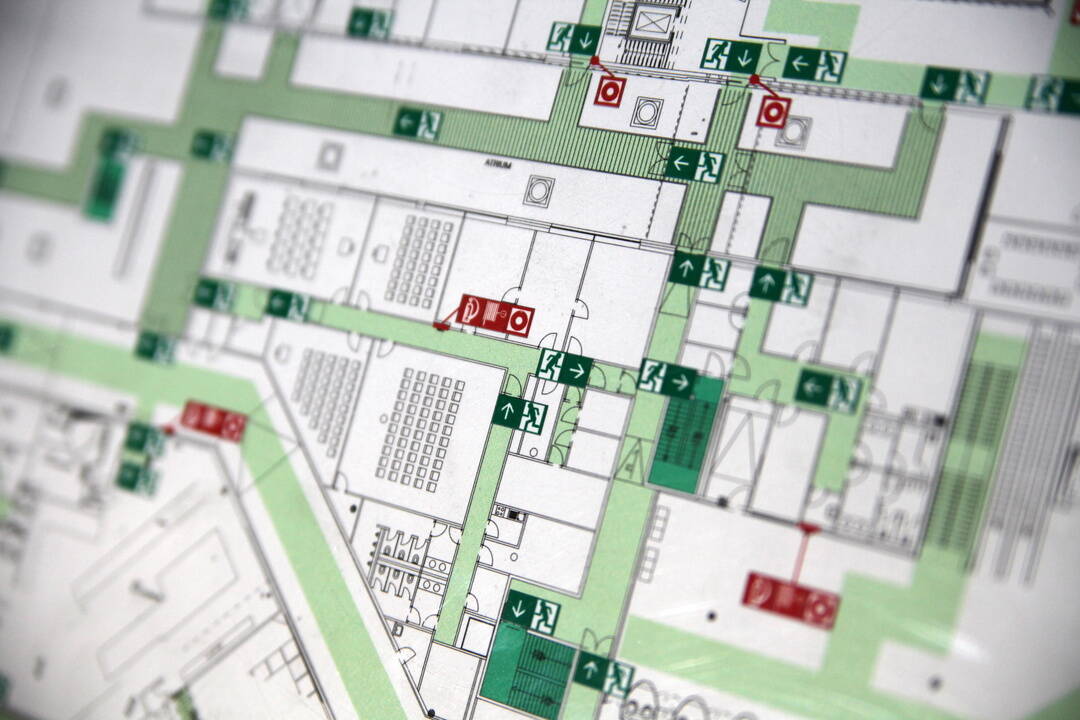 Performing tests on the escape door terminal
Mandatory guidelines apply when checking systems with escape door terminals. This means that the conformity with the proof of suitability must be confirmed by a certificate from the manufacturer before initial commissioning. An expert must also be consulted to determine whether the electronic locking system has been installed and functions correctly. The competent person must also check existing doors with electrical locking systems in escape and rescue routes. The owner of the building then receives a certificate of periodic inspection from the expert so that this can be submitted to the building inspectorate.
If no such certificate is available in an emergency, the building operator may face legal consequences. In the worst case scenario, insurance coverage is no longer guaranteed and may even lead to the decommissioning of the entire operation.
Testing of a system with escape door controls and electrical locking systems should be carried out at least once a year by an expert.
Areas of application of escape door terminals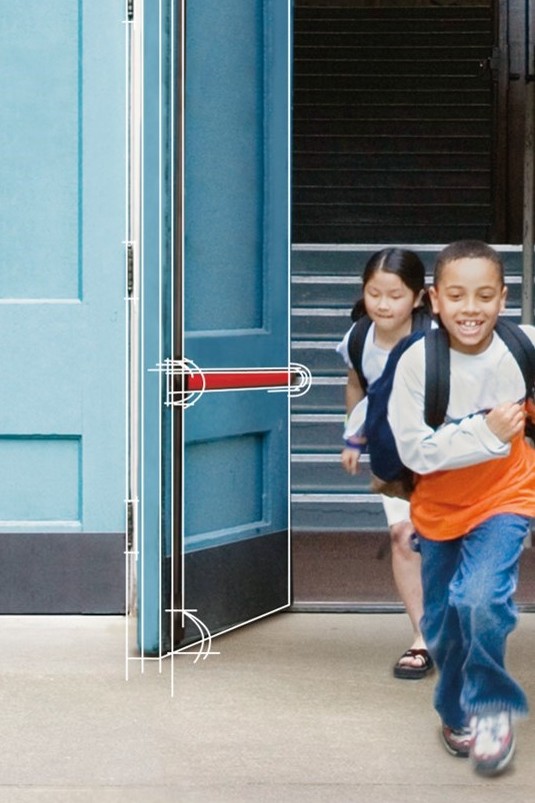 An example of escape terminals is their use in schools. Particularly in primary schools in urban areas, it is important to prevent children from leaving the school building without authorisation. On the other hand, it must be possible to escape from the building at any time in an emergency (e.g. fire or gunman attack alarm).
A system with escape door control secures the doors in the school building and can only be used in emergencies. The release button mounted indoors enables teachers and other school staff to open the door without any problems. In the event of danger, however, pressing the Emergency Open button enables immediate release for all persons. The maximum installation height of 1.05 m must not be exceeded
But escape door controls are not only found in schools. Systems of this type are also used in restaurants, cinemas, commercial facilities, retail shops, underground car parks or office buildings

Conflicts in escape door terminals
The problem with the use of doors with escape door terminals is a conflict of interest between different parties and institutions. The difficulty is to force security of the building while ensuring the safety of people. Operators of buildings generally strive to close escape route doors in both directions in order to prohibit unauthorised access. On the other hand, trade inspectorates, building inspectorates and employers' liability insurance associations demand that doors of this type can be opened from the inside at any time. In addition, the fire brigade's emergency services must have unrestricted access to the source of danger during extinguishing and rescue operations. A contradictory aspect of this is the police's requirement for exit doors to be locked from outside by means of access control.
Escape terminal in conjunction with digital access system
In order to achieve the best possible compromise between security and security, we recommend combining escape door control and digital access system. On the one hand, this solution offers the protection of people and valuables, while at the same time ensuring the protection of people in dangerous situations.
An anti-panic cylinder has been developed for these highly sensitive tasks and especially for use in escape and rescue routes. The lock is opened using an access medium (e.g. transponder or SmartCard). It is freely rotating on both sides, so that the lock can be locked and released from both sides using an authorised transponder. In a panic situation, however, the door can be opened without a transponder using the anti-panic lock function.
Installation of digital cylinders and escape terminals
The anti-panic cylinder is mounted and replaced completely wirelessly. Initial installation or retrofit on doors is thus completed in next to no time without any drilling or special tools. The matching electronic door cylinders can be installed or retrofit in minutes. . They feature many intelligent functions and are almost maintenance-free thanks to their minimal power consumption. Schedules can be used to determine who has access to what, when and where. Logging shows who entered which rooms and when.
With the integrated button cell batteries, up to 300,000 doors can be opened or closed.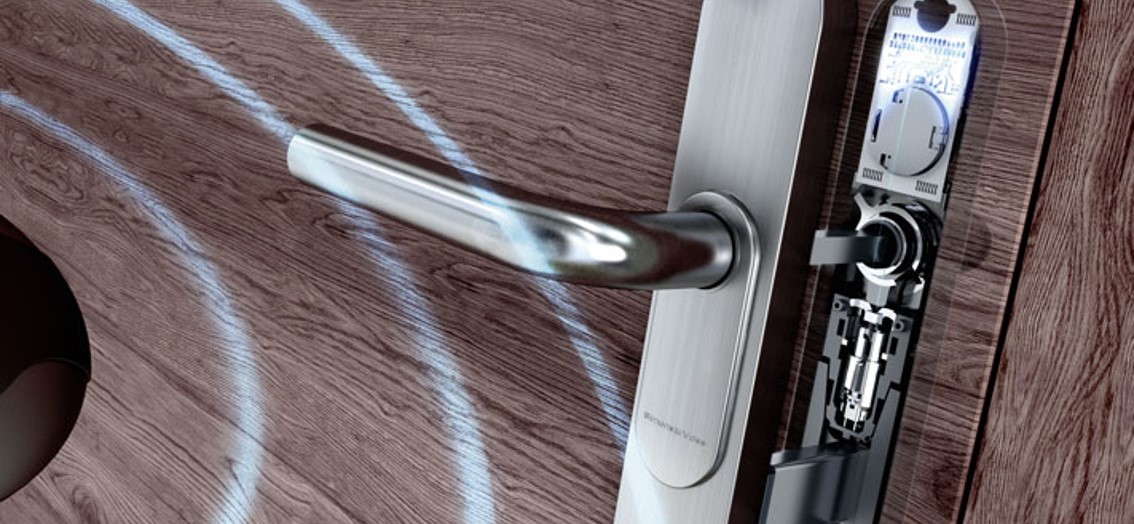 Further advantages of escape door control + digital access system
Schools, universities, office complexes, restaurants and commercial facilities need intelligent locking systems to ensure security for people, buildings and inventory. Many visitors, customers and service providers come and go on a daily basis. Restricted doors and subsections must be surveilled while others need to be freely accessible. At the same time, personal protection is mandatory in the event of a hazardous situation. This makes comprehensive and intelligent management and control of access extremely demanding.
Electronic locking systems are a prerequisite for comprehensive security in industrial enterprises. The SimonsVoss Digital Locking and Access Control System 3060 provides comprehensive control and verification with active door management and combines maximum security with the required instant response.
SimonsVoss your expert for digital locking systems with anti-panic components
SimonsVoss systems offer intelligent, digital locking components and state-of-the-art software. Identification media with individual access rights close and open doors via radio signal. Digital locking devices can be programmed as required. Linked into a centrally controllable system, doors, gateways and barriers can be opened or closed in segments using a central command. The anti-panic cylinder was specially developed for use in escape door control systems and thus enables greater convenience with consistent security.
Enter the KEYLESS World now and protect people and buildings comfortably and sustainably with quality Made in Germany!