 What is access control?
Access control grants authorised persons access to buildings or areas. At the same time, it prevents unauthorised persons from accessing certain areas.
"Who is authorised to access when and where?". This principle applies to the security of persons, objects or data. Access control clearly defines the authorisations for access categories that can be individually defined. This applies to both local and temporal restrictions.
Possible access control installations

Why are access controls used?
Safety is always most important. Access control can greatly increase the protection of people, valuables and buildings. This can, for example, be schools or universities to which only authorised persons may have access. But office buildings are also secured by access control to secure sensitive data and valuables.
How does access control work?
In the past, security personnel were often used as human access control. Personnel were responsible for manually checking access and granting or denying access. Controlling building security by means of building corridors was also one of the areas of responsibility of personnel access control.
Nowadays, digital, electronic access control is on the rise. "Stop, you can't come in here!" – this is how electronic access control works fully automatically. It is the doorman that ensures security and comfort by ensuring legitimate people have access and keeping uninvited guests out. You tell the digital doorman which guests should be given WHEN and WHY access. The access control system ensures an optimal balance for a high level of security, convenient access and easy management. The complete system can be individually configured and adapted to the respective local conditions.
Components of access control
Access control consists of at least three elementary components: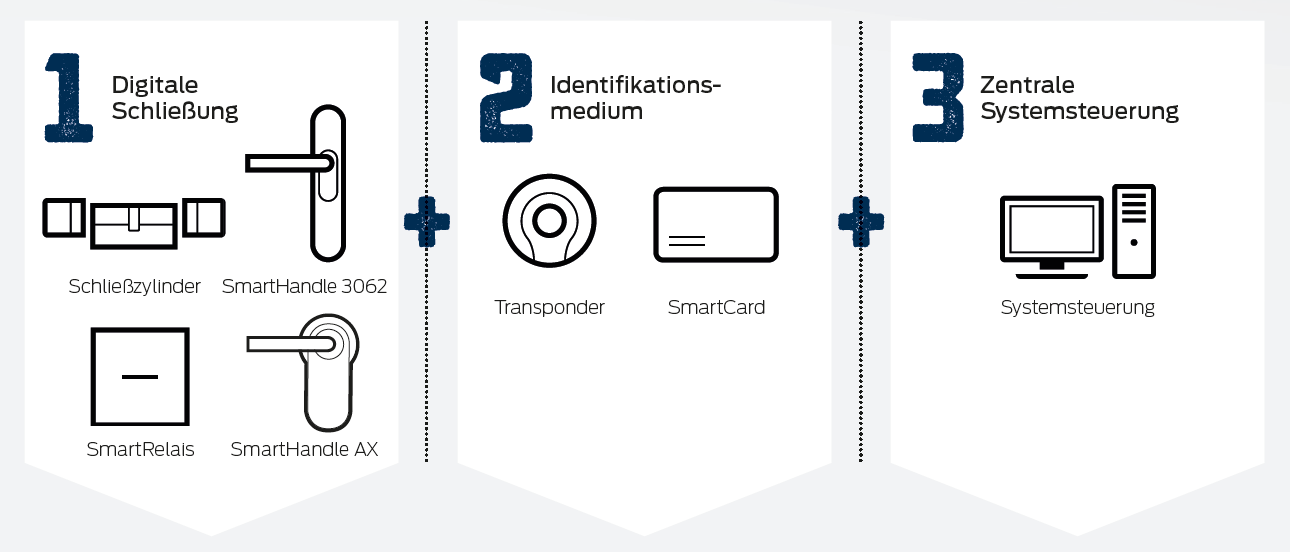 1. The digital locking device:
All persons with access rights are known to them. All monitoring and control functions for the respective door are carried out here.
2. The ID medium:
The ticket to the respective area. Transponder or SmartCard? The shape of the medium can be selected as desired!
3. The central system control:
Access authorisations are centrally managed here and the digital locking device and identification medium are transmitted.
Access control can be extended with a wide range of systems as desired. Whether intelligently networked control units or software add-ons, there are virtually no limits to the imagination.
Important questions when using access control systems
When using access control, the following questions in particular need to be clarified:
Does access take place mechanically or digitally?

What exactly should be safeguarded?

Is only one access affected or several?

How can access be monitored and controlled?

How can access be managed dynamically and easily?
Areas of application of access control systems
Whether university, company premises, warehouses or offices - there are people, material assets or sensitive data everywhere. This must be protected against damage, theft or espionage. Previously, as previously described, gatekeepers with a bunch of keys opened the door, today this takes place fully automatically via modern access control. One example of this is banks, hospitals or data centres at airports with particularly sensitive areas, which must be protected against unauthorised access. In hotels too, guests should only be allowed to enter their own booked room, but at the same time have access to the wellness area. The supermarket must be accessible to employees and suppliers before opening the store, but only let customers in at 8 a.m. Production employees must have access to the company during the shift change, but must not enter particularly sensitive or hazardous areas. All of this is regulated by access control, always in accordance with the guiding principle: "Who is allowed to go where and when? "
Access control identification
Access control can be identified using different media. These can be active, passive or biometric.
Active identification media are characterised by their autonomous power supply, which guarantees a longer reading range. Passive media works without its own energy sources and are used in a wide range of systems. In the third option, biometrics, fingerprint, retina scan, palm print or face are used for identification at the access control reader.
A distinction is also made between contact-based and contactless identification.
The contact-based version is a method that is no longer contemporary. Nevertheless, this variant is still popular as it is very inexpensive. For example, using Hotels magnetic cards to operate their access controls. Wear and tear is extremely high.
The contactless alternative, on the other hand, works using RFID technology. Transponders or cards and can be read out up to one metre contactlessly. This technology is often also integrated into smartphones, wristwatches, mechanical keys or clothing. RFID technology is also already used to mark animals or as implants in humans.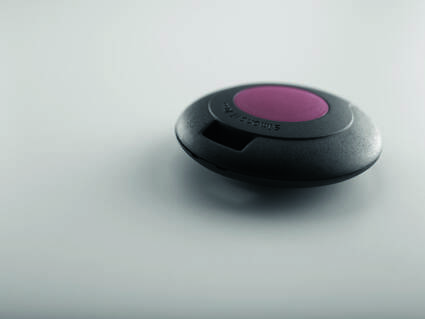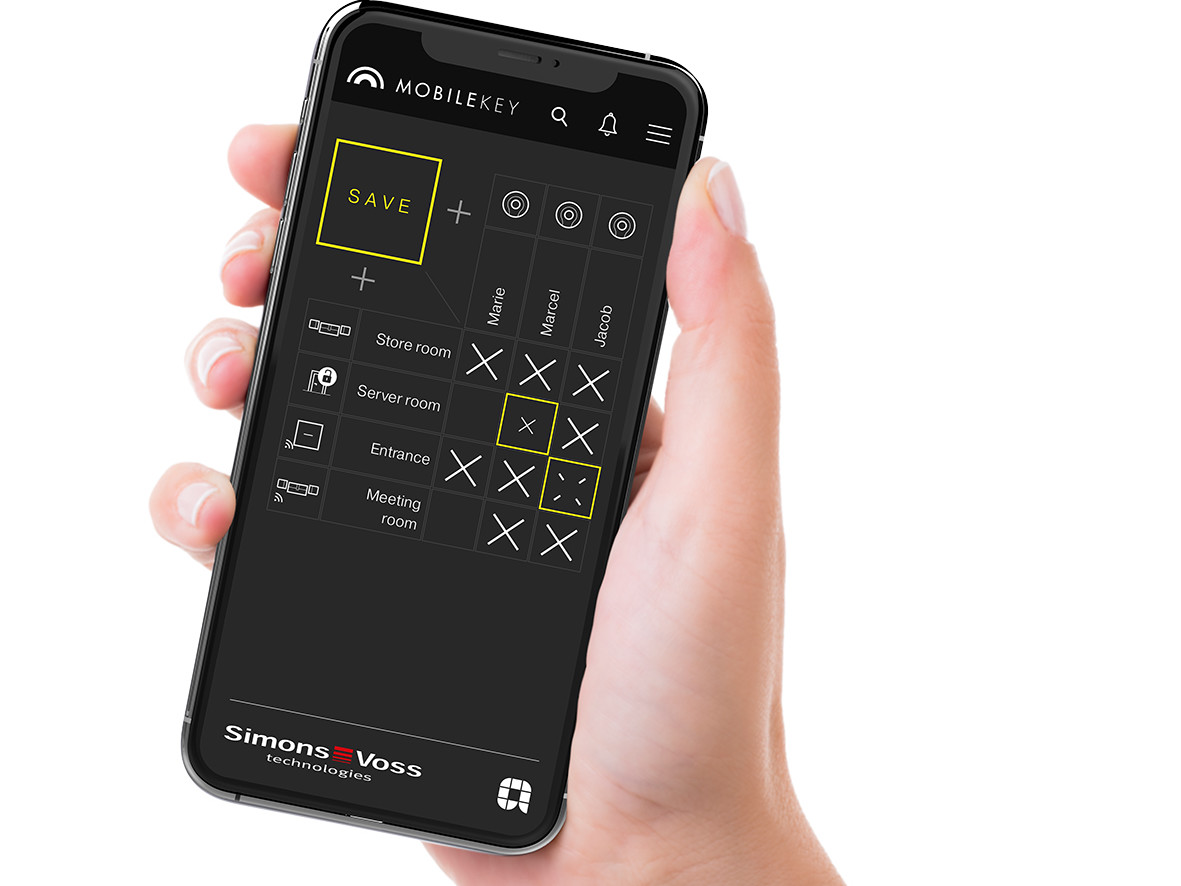 Access control using smartphones
Access control via smartphone and Bluetooth is now easily possible. Either the unique MAC address of the smartphone is read out or special software is installed on the device to grant access.
Security of access control identification media
Generally speaking, all of the aforementioned identification media are considered very secure. The magnetic cards are an exception to this rule. A lack of security is often cited as a criticism, as cards of this type can be copied relatively easily.
Benefits of access control systems
Protection of persons, property and data

Organised access by authorised persons using individually definable access authorisations

Simple changes to authorisations

Optimum overview of access authorisations for all persons

Uncomplicated and, above all, inexpensive handling in the event of loss of identification media (no replacement of cylinders or the entire system necessary, but simple blocking of the lost medium)

Unauthorized access or tampering alarm

Optional connection to time recording systems
Mechanical or digital access control?
The answer to this question is simple: Digital access control! Nowadays, rapid digitalisation and evergrowing security requirements can be mastered without any problems by a digital variant. A mechanical variant reaches its limits in increasingly flexible working time models at the latest.
The good news: Mechanical systems can easily be replaced with digital access control without the need for cables. It does not matter whether it is a new or old building, how many doors exist or how many buildings are affected.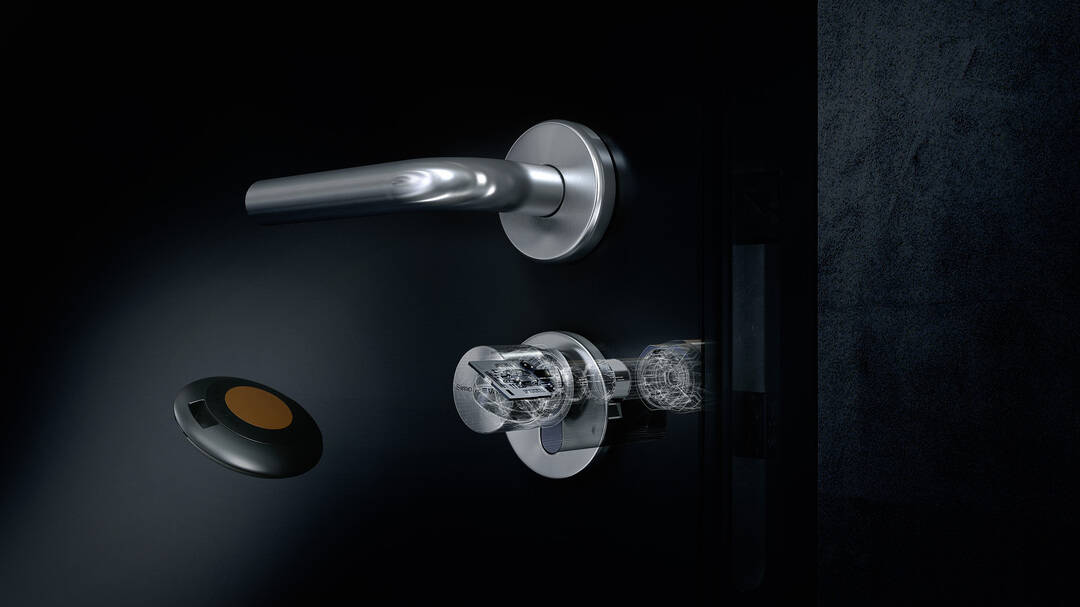 SimonsVoss – Your expert in digital access control
SimonsVoss is the pioneer when it comes to remote, wireless access control systems. SimonsVoss locking systems combine intelligent functions coupled with optimum German-made quality. As a technology leader in digital locking technology, SimonsVoss attaches particular importance to scalability, optimum security, reliable components, high-performance software and simple operation.
Courage to innovate, to think and act sustainably and to a high degree of appreciation among employees and partners form the basis for SimonsVoss's success.
Advantages of SimonsVoss digital locking systems
Decades of experience have led to success, which is otherwise difficult to achieve: combining flexibility and security. Creating such an optimum quality combination and custom-made systems are the SimonsVoss trademark. All systems meet highly complex requirements in large buildings, can be expanded easily and quickly and function consistently and cable-free. The advantages are obvious:
Greater control and security
At SimonsVoss, security means being able to immediately block more than just lost keys. Security also means protecting electronic keys against unauthorised copying. Security means making sensitive areas centrally controllable with wireless door monitoring. And at the same time be able to limit and document all access.

More quality
As a pioneer in digital locking technology, SimonsVoss manufactures all components at its own production site in Germany. For us, German-made quality means long service life, reliability of the mechanical components, trouble-free operation and, last but not least, minimum power consumption.

Greater convenience
Doors can be opened and closed at the push of a button using an electronic key for all entrances. Door security for your own employees, but also guests, is no longer an obstacle. SimonsVoss systems also give you a complete overview at all times of who has access where and when. Access rights can be changed conveniently, at any time, spontaneously and flexibly.

More service
Reliability builds trust. The SimonsVoss service team is always there for you and supports you via the hotline, on site or remotely.

Completely future-proof investment
SimonsVoss has always put the highest priority on extending digital access control systems cost-effectively, even after many years of trouble-free expansion with new software and new components.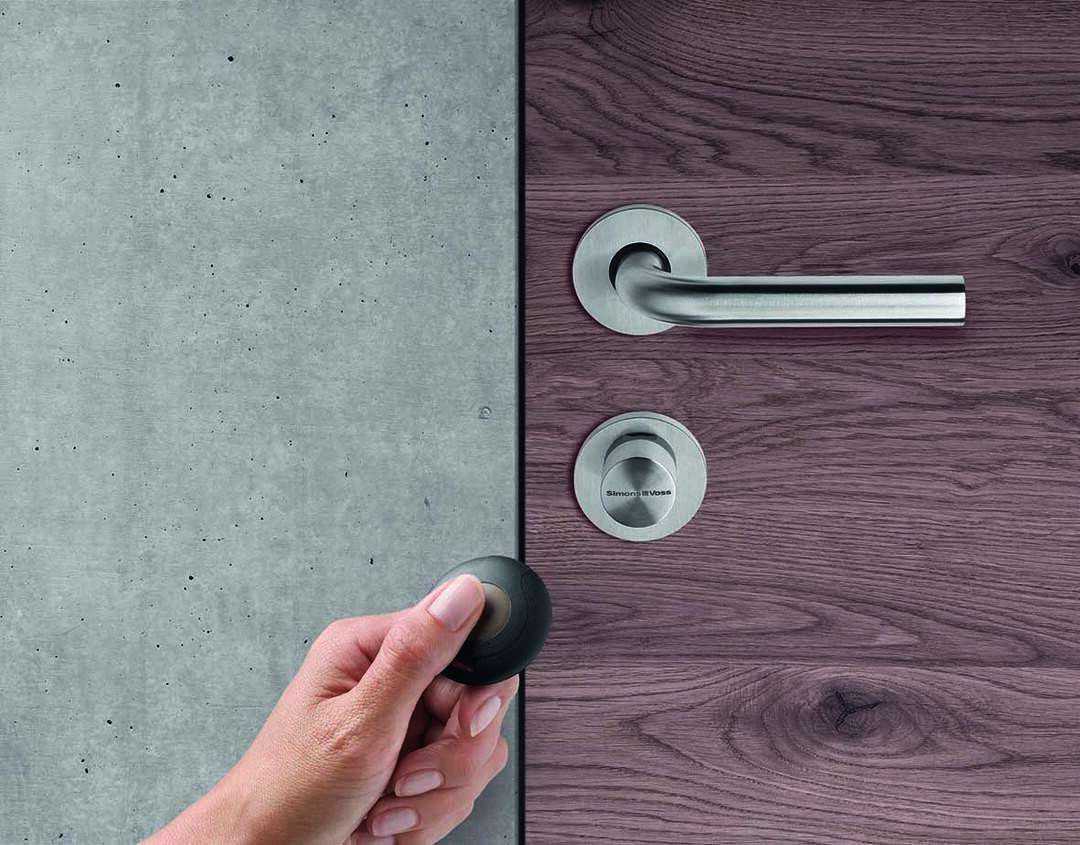 Start in Keyless World now with SimonsVoss digital access control systems!